Fujifilm X Summit on May 31: Still Unknown if Fujifilm X-H2s, X-H2 high res, XF150-600, XF18-120, XF56MKII, GF20-35 Will All Drop There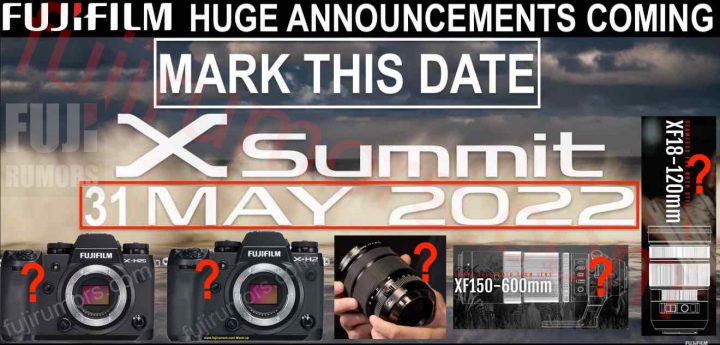 FujiRrumors unveiled that the an epic Fujifilm X summit will take place on May 31.
As usual during Fujifilm X Summits, we can expect lots of gear to come. And in the past we also saw new lens roadmaps, firmware announcements, displays of prototypes and more.
So definitely X Summits are a huge event for us Fuji lovers.
However, I've already read comments all over the web claiming that FujiRumors said the following gear will be announced on May 31:
Look, a little bit I got used to the fact that some people make their assumption based on fragments of what I write. In fact, there are at least 10 rumors I've never shared about the X-H2 and actually people think I've shared them.
So today I feel I need to make another important clarification.
FujiRumors never said that all the gear listed above will be announced on May 31. What we said is that this is the stuff Fujifilm has surely in the pipeline for 2022 and surely some of it must come on May 31. But I have no idea if all of it will come on that date. Maybe yes, I certainly hope so, but my hopes are not rumors.
So I ask you a bit more of patience and I'll update you as soon as I have solid information on exactly we can expect on May 31.
Fujifilm X-H2/S Rumor Recap