Ten (10) Fujifilm X-H2 Rumors I've Never Shared, But Some Guys Think I Did (and Now I Need to Clarify)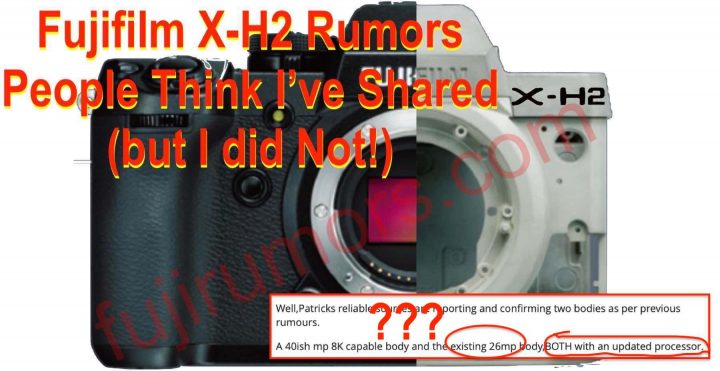 I start reading in forums stuff that apparently I've claimed about the Fujifilm X-H2 cameras, but in truth I never did.
The reason this happens are mainly two:
Some guys misinterpret my personal speculations for a rumor coming from a source
Some guys read articles on a fly and skip some important parts of the rumor (or read only the headline)
Maybe all the "rumors" attributed to me (but that I've never shared) will turn out to be true indeed. And I wouldn't be surprised if many did. But in any case I felt the need to clarify this, otherwise, if some of the stuff shared below does not turn out to be correct, people will start attacking me for sharing fake rumors and clickbait.
CLAIM: FujiRumors said that Fujifilm will launch two X-H2 cameras simultaneously
I don't know if both X-H2 cameras will be launched on the same day, or just in the same year (2022).
CLAIM: FujiRumors said there will be one video centric X-H2 and a stills oriented X-H2 with different ergonomics
I don't know if both X-H2 cameras will have the same camera body or if there will be (small or big) ergonomic differences.
CLAIM: FujiRumors said the X-H2 will be launched in early 2022
I don't know if the X-H2 will be launched in early 2022. FujiRumors has not given any time frame until now (except for a generic "2022"). Sure, looking back at the last 10 years, the main camera announcements happened between January and March. The reason is simple: the Japanese fiscal year ends on March 31 and Fujifilm wants to show up at investors with better sale figures by launching and selling cameras before the fiscal year ends. So to anyone who guesses for "early 2022" I can understand where this guess comes from and it makes a whole lot of sense. But just to be clear, so far our sources have not confirmed that (which does not mean it could not be true)
CLAIM: FujiRumors said both X-H2 cameras will cost below $2,500
I don't know if both X-H2 cameras will cost sub $2,500 (one should, but if both will remains open).
CLAIM: FujiRumors said there will be a 40 MP X-H2 with stacked sensor
Fujifilm said they will launch a stacked APS-C sensor in 2022. FujiRumors said there will be a 26MP and a 40MP X-H2 camera in 2022. But I don't know if both these cameras will have a stacked sensor, or only 1 camera. Or none, and the stacked sensor will be reserved for something else.
CLAIM: FujiRumors said one X-H2 will have the existing 26MP X-Trans IV sensor (currently in use on X-T4)
No I did not say that. I said that it will have a 26MP sensor, but I don't know if it will be an X-Trans IV sensor (maybe combined with new processor to take the most out of it), or a new 26MP sensor.
CLAIM: FujiRumors said there will be one X-H2 with X-Trans sensor and one with Bayer sensor
I did indeed write this, but it was not as a rumor! It was a mere speculation of mine. Please read again the original article here. I was just trying to figure out what the difference between the two X-H2 cameras could be, and one that came to my mind was the Bayer/X-Trans versions. But that was never a rumor. It could make sense, as Bayer has its advantages too (more affordable, easier to get features like pixel shift, less power hungry, less overheating etc – read here). But so far no source told me I am right (or wrong) with my speculation.
CLAIM: Both Fujifilm X-H2 cameras will feature an updated processor
Also in this case, this is something I've never claimed. I've speculated on a personal level that both could have the same processor, but no source has given me this information yet. And until that happens (that a source shares more details), all the options remain open.
CLAIM: FujiRumors said in 2019 that the X-H line has been canceled and now cowardly backpedals his fake 2019 rumor hoping we will forget about it
There was this fake rumor circulating and it created such a buzz that it ended up also on big photography news sites. But it was not shared by FujiRumors. On the contrary, just minutes after the fake rumor was shared I warned you all that it's a fake and that the X-H2 will surely come (it will just need more time). On FujiRumors we do not do fake rumors that serve the only purpose to get your attention, traffic and money. We respect you, your time and your trust and therefore will never go down the fake rumor road.
CLAIM: FujiRumors said the X-H2 will come in 2020, then said it will come in 2021, then said it will come in 2022. Can we still trust this guy?
I've read this accusation on an Italian forum. So let's clarify that this is another case of websites (and YouTube channels) having no clue just continuously announcing the imminent arrival of the X-H2 just to make some traffic. Here on FujiRumors we told you back in May 2019 (!!!) that the X-H2 will come, but not in 2020. And once 2020 was over, we told you in May 2021 that there won't be an X-H2 not even in 2021*. The first time indication we gave on the X-H2 was on March 2021, when we told you the X-H2 will come in 2022.
So, until any of the above is confirmed (or debunked) by my sources, they remain mere speculations. Some of them very reasonable speculations, but still, just speculations.
Look guys, here on FujiRumors the Fujifilm X-H2 marathon just started. So definitely give FR a look every now and then to see if something new goes online. And it will… oh boy it will ;).
The Fastest Growing Fujifilm Group
Join Our Owners Groups
Join Our Facebook Pages
*We told you there won't be any more X series camera in 2021 after the X-E4 (hence also no X-H2 will come in 2021). Now you tell me that we got the X-T30II o September 2021, but that camera was a last second decision by Fujifilm and it's an X-T30II with new firmware and better LCD and and RAM.