Fujifilm Product Timeline 2021/2022: About X-H2, GFX50SII, XF150-600 and More (And What Will NOT Come)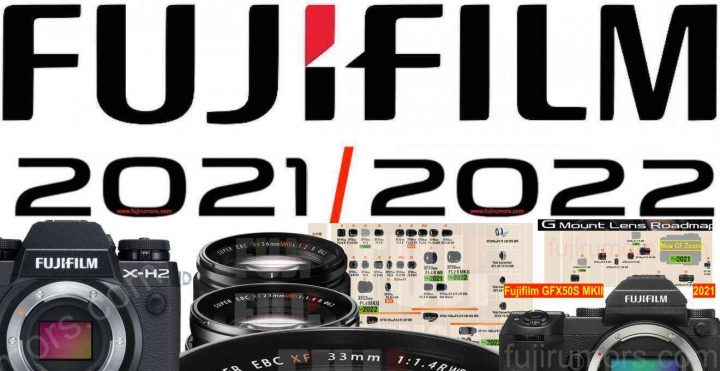 FUJIFILM 2021/2022
RUMORED PRODUCT RELEASE TIMELINE
Time to update our previous X and GFX gear timeline, which was not only limited to 2021, but lacked of some gear we rumored in the following months.
Also, I'll include a list of products that will not come as the fake rumors keep spreading and I notice a tendency in forums to believe just everything that is written or talked about somewhere, may it be a monochrome camera, and X-T40 with IBIS coming very soon, the X-H2 coming 2021 and totally random stuff like that.
But luckily there is a 100% efficient anti-fake-rumors-vaccine called FujiRumors, so check out the list down below to know what Fujifilm really plans and when it will come.
And it won't end here.
In fact, I have a skype call scheduled with the Japanese source in very near future. After the last call a few weeks ago, we dropped a couple of rumor-bombs (X-H2 details, the end of X-Trans IV, no more X cameras in 2021, the new GF zoom to come second half 2021 and more stuff I am not allowed to share just yet).
I expect that also our next call will be very interesting.
In case you'd like to know what it shared with us, feel free to follow FujiRumors and get updates via Facebook, RSS-feed and Twitter.
But until then, here is the most updated list of gear to come (and gear that won't come).
X Series Gear
2021/2022
2021:
What is not Coming in 2021 are the Fujifilm X-T40 and the X80. We already told you that the Fujifilm X-E4 is the last X series camera for 2021. The next camera to come will be the X-H2.
Also, the Fujifilm X-T4 will be the last X-Trans IV camera.
And yes, I know some folks gave it as 110% certain to come in 2021, but trust me, there are no XF300mmF4 and XF500mmF5.6 coming in 2021 (if ever).
Note that the Sigma X mount rumor is backed up by Sigma itself, who teased such lenses for 2021 several times such as here in late 2020 and in early 2021 here.
2022:
To avoid misunderstandings, I would like to remark that while it's true that there won't be any more X-Trans IV cameras, I do not know if the Fujifilm X-H2 will be X-Trans or Bayer. Maybe I'll get the answer very soon by our top trusted Japanese source. I'll let you know.
I asked you guys what you prefer X-Trans or Bayer for the Fujifilm X-H2, and thousands of you voted a (rather clear) winner here.
GFX Gear
2021/2022
2021:
2022:
I am working to add GFX gear in the 2022 list. I know many hope for a Fujifilm GFX50R MKII or even a Fujifilm GFX100R. But so far I have no information about it.
As for lenses, an old internal roadmap FujiRumors leaked back in 2017 (and that turned out to be 100% accurate), showed a lovely Fujinon GF 20-36mm f/3.5-4.5. I have no rumors, but I hope Fujifilm will give us that lens.
And do you remember when back in 2019, Fujifilm manager launched this official survey asking X and GFX shooters which lenses they'd like to see next for their systems?
Well, as far as GF lenses goes, Fujifilm listed four option, and they were all tilt shift / tilt macro lenses. This shows Fujifilm is aware that tilt shift options are a major gap in the lineup. Sadly they haven't delivered so far, but let's hope 2022 will be the year.
Not coming according to top Fujifilm managers: a fixed lens GFX camera.
The Monochrome Clickbait
A special mention goes to the long "rumored" monochrome X or GFX camera.
Back in 2016 a Fujifilm manager said they "thought" about a monochrome Fujifilm camera. But look, Fujifilm "thinks" at a lot of things, and only a fraction of those becomes reality (as also all those dead patents prove).
Anyway, since 2016, the so called "rumors" about the imminent arrival of a monochrome camera have never stopped.
Now, you don't have to listen to FujiRumors, who always told you it's a total fake, but even after a Fujifilm manager said there are literally "zero chances" of a monochrome camera, some folks kept announcing it as imminent, such as in 2020 here and again later on in 2020 here.
As of today, I do not see any reason to change my opinion on the monochrome camera. Fujifilm is definitely busy with other stuff.
Proof I Love You?
No shortcuts.
No fake rumors and BS to get easy traffic.
No guesses sold for rumors.
No!
FujiRumors has to deserve your time and support day after day.
This is why on FujiRumors you'll never be clickbaited with fake rumors.
We love and respect you and this whole community way to much to take cheap shortcuts.
And little it matters if in the last few years we had near 100% rumor accuracy even when sharing 90 rumors a year.
We want to earn and deserve your trust, time and support over and over again.
The best way to do it, is to share more rumors.
And that's what will happen.
Very soon.
So stay tuned on FujiRumors.
Love you guys!
Join Our Owners Groups
Join Our Facebook Pages