Fujinon XF 18-200mm F3.5-6.5 Patent Spotted in 2014 gets Patent Revival in 2021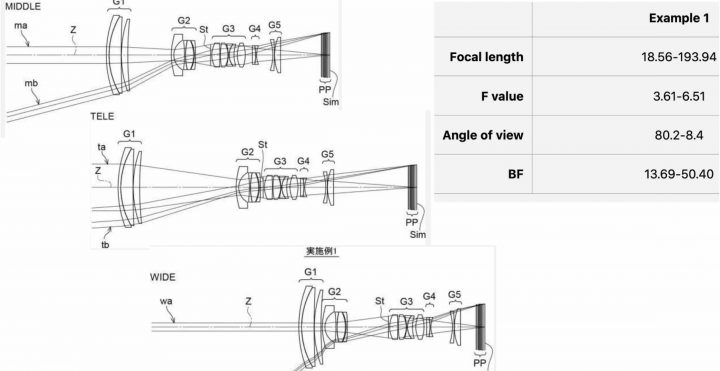 A patent has been spotted for a Fujinon XF 18-200mm F3.5-6.5. Now, I remember that a patent about a Fujinon18-200mm F3.5-6.5 has been spotted also back in 2014, and the optical design is similar indeed.
From the patent details we see that this lens has a higher optical magnification than the XF16-80mm F4 and the XF18-135mm f/3.5-5.6 and covers the angle of view equivalent to "25.5-300mm" in full size. The patent does not mention OIS.
But…
You know what I think about patents. Recently a patent has been spotted about an XF35mmF1.4 MKII, which won't come. There was the patent about the XF16-55mmF2.8 OIS, which also won't come. Back in March 2020 we reported about two Fujifilm patents showing a Fujinon XF300mmF4 and Fujinon XF500mmF5.6. But also here we told you not to expect any of these lenses in the near future.
And then there were the patents about… well, you got the point!
So, FujiRumors is here to advice you to take every patent with a grain of salt. 99% if those never see the light of the day.
[Publication Number] Japanese Patent Application Laid-Open No. 2021-32928 (P2021-32928A)
[Publication date] March 1, 2021
Description: Zoom Lens and Imaging Device
[Application date] August 16, 2019
[Applicant] [Identification number] 306037311
[Name or name] FUJIFILM Corporation
PROBLEM TO BE SOLVED: To provide a zoom lens having a high magnification, suppressing fluctuations of various aberrations at the time of variable magnification, being miniaturized, and having good optical performance, and an imaging device provided with the zoom lens.
Look guys, in terms of zooms, Fujifilm is working on a Fujinon XF150-600mm.
As for the other lenses coming, all you have to do to find out about it, is to follow FujiRumors.
Join Our Owners Groups
Join Our Facebook Pages
via asobinet