Fujifilm Manager at CP+: "We Will Release Many XF and GF Mirrorless Lenses This Year, So Please Look Forward to It"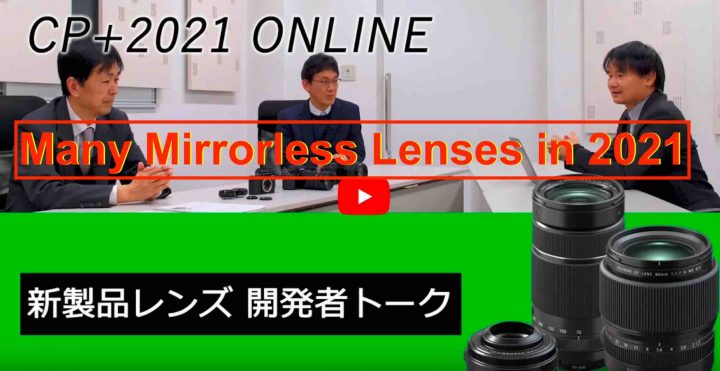 Fujifilm General Manager Takashi Ueno said at the virtual CP+ convention 2021 that Fujifilm will release "many mirrorless X and GFX lenses this year".
Well, the start in 2021 was fantastic, with the following three lenses launched:
But that is apparently not enough for 2021.
FujiRumors already told you to forget about the XF35mmF1.4MKII. That's rocksolid multiple confirmed from several trusted sources.
What will still come for sure are:
We also know Fujifilm is also working on a Fujinon XF150-600mm, but that one should come in 2022. Of course FujiRumors is investigating and making constant progress on the rumor front, so expect updates soon.
In the meantime, down below is a summary of Fujifilm's CP+ online talk.
XF27mmF2.8 R WR
XF70-300mm
the goal was also to make a small XF70-300mmF4-5.6
the goal was to make it as small as the XF55-200mm but it turned out 1.5cm longer, which was necessary to keep high optical performance. However, the weight is the same
GF80mmF1.7
with the GF80mmF1.7 they wanted to make the fastest medium format lens
gentle background blur
it weights 795g
ATTENTION, Google Translate literally writes: "It seems that there was a place where it was developed in parallel with "XF100mmF1.0". However, "GF80mm F1.7 R WR" seems to have higher resolution performance."
About the GF80mmF1.7, the manager says that "the fact that the bokeh is not noticeable is a really beautiful bokeh."
making the focus unit lighter makes the entire lens heavier, and if you want to make the entire product lighter, you need to make the focus unit heavier to eliminate aberrations
the GF80mmF1.7 Autofocus group makes out 1/4 of the weight of the lens

it is too heavy to use a linear motor, so they adopted a DC motor
More Lenses Coming
When Fujifilm Manager Takashi Ueno asks the development team if more lenses will come this year, the team just smiled ;)
"Stay tuned for more details"
"We are going to release a lot of interchangeable lenses for both G mount and X mount, so please look forward to it."
So what would you look forward the most?
Save $500 via mail-in rebate
The Latest and Greatest
Follow FujiRumors on Patreon, Facebook, Instagram, RSS-feed, Youtube, Flipboard and Twitter
Join Our Owners Groups
Join Our Facebook Pages
via dc.life