Sigma Says DC DN Lenses for Fujifilm X Mount will Hopefully Come in 2021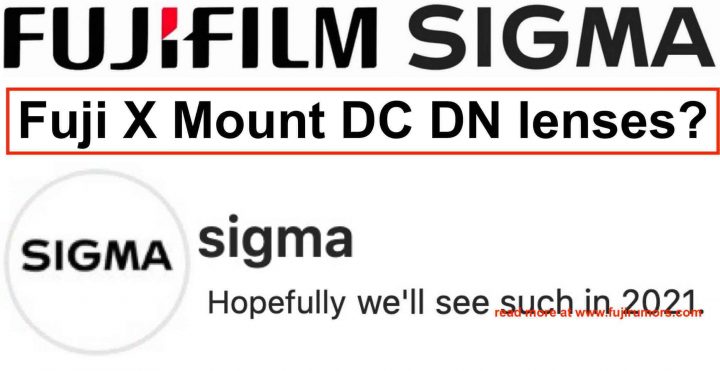 Here on FujiRumors we often discussed the wish for Sigma to make Fujifilm X mount lenses.
However, up until today Sigma has officially always kept a rather pessimistic position on that.
In fact, here are some of Sigma's past statements:
Fujifilm Customers Would be Our Ideal Customer, but Fujifilm Does Not Disclose Their Protocols
Our Mission is to Support as Many Systems as Possible, but our engineering resources are limited, so we need to prioritize projects, depending on the demand from the customer
On Fujifilm's side, initially top managers said this here:
Fujifilm does not need to share X mount protocols with third-parties, since we offer already lots of glass
But I guess the pressure coming from the Fujifilm community was big enough, to make them change opinion later on:
We Open X Mount to Third Parties […] Kenko Tokina actually already announced three lenses for X-mount, with autofocus […] Many customers want more lenses, and we want to satisfy that need
Last but not least, here is one of the rumors we shared back in 2018:
SIGMA Will Make FUJIFILM X Mount lenses if X series Camera Sales Increase by 20%
Well, today, for the first time, we have an official Sigma statement that allows us for the first time to have hope Sigma X mount lenses could come.
In fact, when fellow FR-reader Rob (thanks for letting me know) wrote to Sigma that he can't wait for X mount DC DN lenses, and there is no excuses not to make them since Fujifilm released their AF protocols, Sigma answered publicly on their official social media channels:
Hopefully we'll see such in 2021.
But still be careful: they say "hopefully", so nothing is yet set in stone.
In the past we did launch a massive survey, where we listed all Sigma lenses and did let you vote on which one you'd like to get also for Fujifilm X mount. Your top 10 Sigma-wishes turned out to be the following ones:

If you want, you can check out and still vote the full survey here.
Crossing fingers some of the them will come also for Fuji X mount in 2021!
Join Our Owners Groups
Join Our Facebook Pages