Fujifilm Manager Toshihisa Iida: "We Open X Mount to Third Parties. X-H Line Continues. No GFX Fixed Lens Camera & More"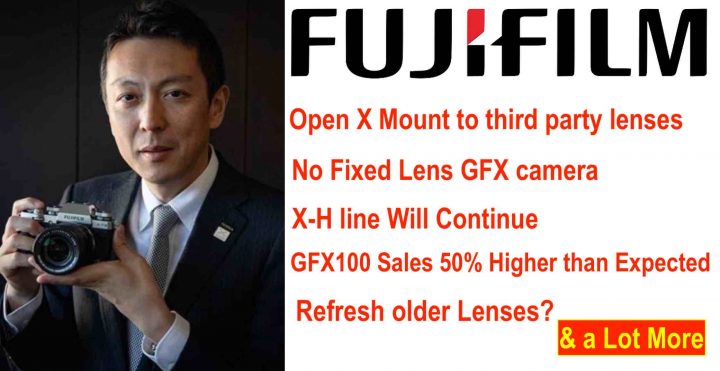 Fujifilm manager Toshihisa Iida gave an interview to DPReview.
Here is what he says:
COVID-19
Fujifilm's main camera factory is located in China
manufacturing restarted only February 10, in a limited scale
now the factory is almost back at full scale operations
manufacturing of X-T4 proceeds well, so Fujifilm is confident to be able to release by the end of April
when it comes to logistics (warehouses, retailers etc) is bad in EU and USA
Fujifilm saw a sudden, but inevitable drop in demand
the current moment is certainly difficult for Fujifilm's imaging business, but Toshihisa thinks they are in a good position to weather the present situation
for now, all R&D plans are unchanged. Release X-T4 in late April and move on to the next project
the cancelation of the Olympic games had a huge impact on Fujifilm's broadcasting business, with lot of orders being postponed or canceled
COVID-19 will have a bigger impact than the 2011 earthquake and tsunami. COVID-19 affects the whole world, not only Japan
Fujifilm X-T4 and Fujifilm X-H2

Fujifilm discussed if they should call it X-T3s. But considering all the changes they made (new shutter, new IBIS unit, new battery), they went for X-T4
X-T4 IBIS unit is completely re-designed compared to the X-H1 IBIS. It's 30% smaller, and 20% lighter
Fujifilm will keep the X-H line and they will introduce innovations into that series. The concept will be very different to the X-T series. [DPR says that Toshihisa hints at even more powerful video features to come]
Fujifilm X-T3 Firmware
an update is technically possible. Fujifilm has many other projects, but in the future they would like to do that for their X-T3 customers
Fujifilm X100V
Fujifilm X100V reception has been very good
Video is not as important in the X100V as the X-T4, but still, it's nice to have.
Fujifilm GFX System
50% more sales than Fujifilm originally anticipated
The customers for GFX100 are mainly fashion, commercial and landscape photographers, but now Fujifilm is getting interest from more industrial photographers, for example for aerial and archival purposes
some filmmakers are now evaluating the GFX100 system, too
It may be possible to convert Fujinon Premista cine lenses to the GF mount with an adapter
The future of the GFX evolution: Fujifilm has the three styles (GFX50R rangefinder, GFX50S DSLR style and GFX100 with integrated grip. Fujifilm wants to keep that kind of differentiation in the lineup
no plans for fixed lens GFX camera at the moment. It would take lots of R&D. Fujfiilm's priority is to expand the GF lens lineup
customers ask for faster autofocus, and Fujifilm is working on how to improve it even further
Fujifilm's biggest priority is introducing the 80mm F1.7 lens to the lineup
Market Situation
mid-range and high-end cameras sell equally good in USA, EU and Japan
strong demand for GFX in China
Asia is the main market for cameras like X-A7 and X-T200
How to encourage the growth of a third-party video accessory ecosystem
Fujifilm customers need compatibility with third-party accessories, like gimbals, drones, things like that
Fujfiilm has opened pretty much all of their specifications to third-party manufacturers
Plans on opening the X-mount up to third-party lens manufacturers?
Mark II lenses?
Fujifilm is fully aware of the need to refresh their older lenses
at the moment their roadmap does not contain any 'Mark II' products but they will be working on new versions of many of their 'key' lenses
In some cases we may need a new optical design, or maybe just a mechanical redesign
if customers react well to XC 35mm F2, there will be more of these lenses
You can read the full interview at dpreview.
There is lots of interesting stuff here, but the one that caught my attention most, is that Fujifilm will open X mount for third parties.
After the failed experiment with the Zeiss Touit X mount trinity many years ago, Fujifilm has never again shared its protocols.
In fact, just in March 2019, the same manager, Toshihisa Ilda said in this interview, they do not think they need to open up the mount to third parties, since they already offer 31 lenses, but if third-party manufacturers reverse-engineer AF lenses for X mount, that's good from a customers' point of view.
The FujiRumors community mostly strongly disagreed with Fujifilm's decision, and it's nice to see that Fujifilm listened and changed their mind about it.
The closed mount was also a problem, that lead Sigma CEO to say here that they would like to make X mount lenses, but Fujifilm does not share the protocols with them.
FujiRumors is on Patreon, Facebook, Instagram, RSS-feed, Youtube, Flipboard and Twitter
Our Owners Groups
Our Facebook Pages