BREAKING: Fujifilm GFX100 Pixel Shift Firmware coming in Late November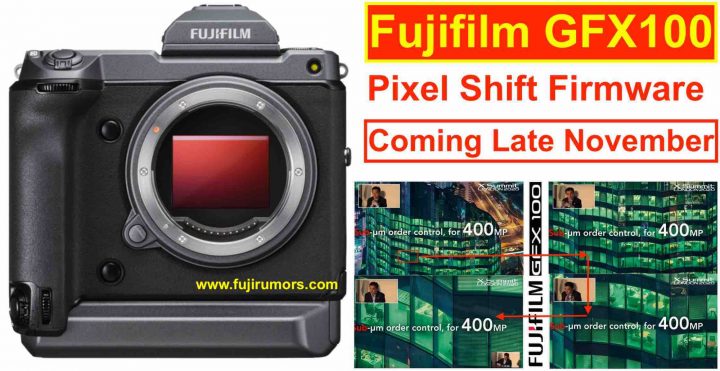 A long wait is going to end very soon.
October 2018 – FujiRumors shares the first rumor about pixel shift on GFX100
March 2019 – FujiRumors confirms the pixel shift rumor, but also says it won't be ready for GFX100 launch
July 2019 – FujiRumors confirms once again: pixel shift will come for sure, but later
Still people where sceptical about my rumors. But all doubt was finally dissipated when Fujifilm officially announced the pixel shift firmare in Februaruy 2020.
And today I can tell you that the long wait will soon been over.
I have been informed by trusted sources (thanks), that the Fujifilm GFX100 pixel shift firmware will be released in late November.
The new pixel shift multishot feature will take 16 images, shift the sensor using IBIS and finally combine all images into one monstruous 400 megapixel file that will send your files into crop-heaven!
The very same second the firmware will go live, you'll read about it here on FujiRumors. So definitely stay tuned on FujiRumors.
The GFX Community
Follow FujiRumors on Patreon, Facebook, Instagram, RSS-feed, Youtube, Flipboard and Twitter