VOTE NOW the SIGMA Lens You Want for Fujifilm X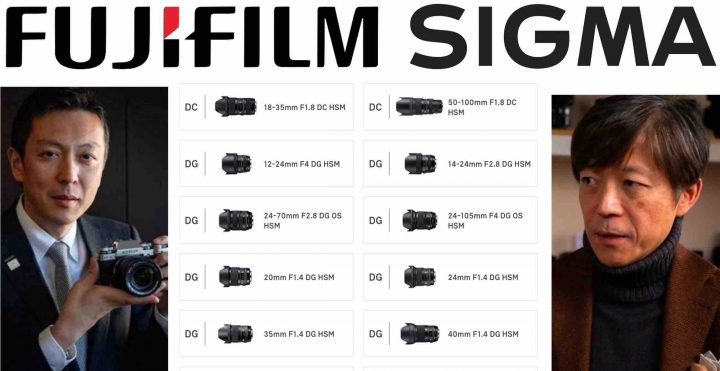 In a recent interview, Top Fujifilm manager Toshihisa Iida said that Fujifilm is opening X mount to third parties, and that Tokina will be the first company to offer autofocus lenses for the Fujifilm X system.
To be fair, Fujifilm had an exclusive agreement with Zeiss back in the days, when the Fuji X system was at the beginning (and almost nobody bought it). Fujifilm needed to extend their lens offering and they did it with the help of Zeiss, who released Zeiss Touit X mount trinity (with the first 1:1 macro lens for the X system among them).
But that cooperation failed, and Fujifilm went on making lenses for the X system all alone, never sharing protocols with anybody else again.
Fast forward March 2019, when pressed by questions, Top Manager Toshi Iida confirmed that Fujifilm does not need to share their protocols, as they offer lots of lenses already.
This statement raised strong reaction in the FujiRumors community, with hundreds of comments disagreeing with Fuji's decision.
Shortly after that, Sigma CEO Kazuto Yamaki literally said in this interview: "Fujifilm customers would be our ideal customer, but Fujifilm does not disclose their protocols".
And so, another wave of critics reached Fujifilm.
It seems Fujifilm listened, as just recently Fujifilm completely changed position, saying they will open X mount to third parties.
We like to believe, that all our critics helped Fujifilm to change their mind about this subject ;).
Now, it remains to see, what "opening X mount" means for Fujiiflm. In fact, I agree with Trenton, when he wrote in the comments to our previous post:
Only time could tell what that "open to third parties" means in reality. It could come loaded with prohibitive licensing costs. It could come with a non-compete clause.
For todays' article, we will just assume, that Fujifilm will open for everybody, who wants to join, for a reasonable price. And that Sigma, who said that Fuji's protectionism was the reason they can't make X mount lenses, will now be on board and start releasing lenses for Fujifilm X.
Now the question is: which lenses should Sigma make first?
Of course Sigma has currently a massive lens selection.
I decided to check out the current Sigma mirrorless lenses offering that are listed at BHphoto here as well as all current Sigma lenses for DSLR cameras listed at BH.
Of course some lenses are for APS-C and others for full frame. I will list them all down below.
Now, the FujiRumors community is always extremely happy to help out managers to make decisions. So, in case Sigma is right now thinking at which lenses they should offer first for the Fujifilm X system, we launch a survey, so that you guys can tell them what you want, and Sigma can make their decision.
And if you think I am crazy… remember those times, when Fujifilm had no roadmap, and we launched a mega-survey with lens suggestions, and Fujifilm took 1:1 our top recommendations and put those into the roadmap?
Sometimes, those guys in Japan do listen ;).
Now, back to the survey.
We remind you that at Sigma, DG lenses are full frame lenses, and DC lenses are APS-C lenses.
Full Frame Lenses
APS-C Lenses
Vote The Poll
Here is the survey.
In order to make it easier to get a good overview, next to each Sigma DG full frame lens I wrote the focal length equivalency in APS-C.
Vote the survey below (max. 2 selections).

Loading ...