Fujifilm Manager: X100V/X-T3 Firmware, Fujifilm X-H2 will Come, Zero Monochrome Chances, 32 Megapixel Limit for Current XF Lenses & More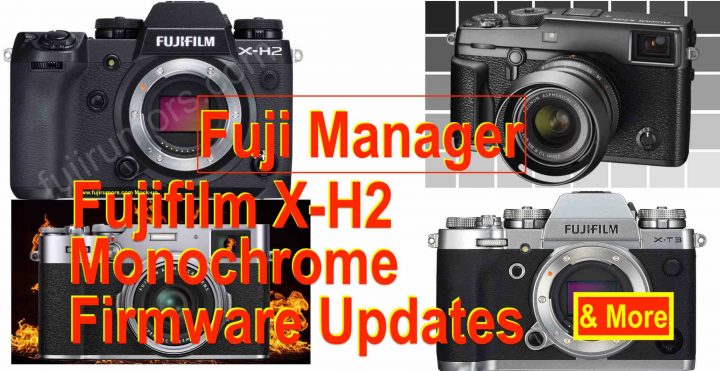 Fujifilm UK Manager Andreas Georghiades joined the Fujicast again (see episode 1 and episode 2). It's a 36 minutes long podcast.
Down below you can read what he says and access the podcast
Fuji Manager Interview
Fujifilm GFX
the Fujifilm GFX50S and GFX50R price is now lower than at start. The Fujifilm GFX50R is the price-fighting model
medium format is already very cheap, when you compare it to where MF was 3 years ago
GFX100 sensor has phase detection pixels built-in, which makes autofocus faster
currently there is no 50, 60 or 70 MF megapixel sensor with phase detection detection pixels available
X-T4 shipping
in UK the X-T4 body only will ship April 28
X-T4 kit end of May
factories are back at full capacity since mid-March
X100V
When asked if there will be firmware updates to improve heating management on X100V, he says it is always difficult to know about future firmware
Fujifilm announced a notice of overheating in case of continous use
slight temperature increase can occure in those cases
the X100V has a tilt screen, takes space, and they had to move circuitry around
the X100V actually generates same heat of X100F, but heat dissipation is different
there is going to be a X100V firmware update as a warning to highlight when things reach their thermal limit, but not in terms of how thermal usage happens
Fujifilm X-H2
Fujifilm X-H line is not dead
There is need in the market for bigger camera and more durability
there is not one camera for everything. There are different cameras for different needs, but with same image quality
the deciding factor is what you want from a camera. Smaller? Stylish? Etc.
there is space for an X-H line
New f/1.2 or f/1.4 primes + updated older primes?
the limiting factor for the focusing speed is not necessarily always the lens
if resolution of sensors continue to increase and if Fuji would use them on future cameras, then Fuji would see a need for newer f/1.2 and f/1.4 lenses
current lenses are good for about 32 megapixel
if future Fuji sensors will have more megapixel, then there will be a need for new lenses [rumors say 43 megapixel]
when asked if there are chances for an updated 18mm he says that there are always chances. But everybody has different wishes. The manager would prefer an updated XF23mm f/1.4 and XF 56mm f/1.2 with weather resistance and fast AF
the manger wonders: if you start updating older lenses, will you kill sales of the other older lenses, as everybody would expect those to be updated, too? And if Fuji announces an updated XF35/1.4 in the roadmap, will the sales for the old 35/1.4 dry up?
you need to balance the need for future information
Monochrome Camera for Fuji X series 10th anniversary?
there are zero chances that Fujifilm makes a monochrome camera for the 10th anniversary of the Fujifilm X series
X-T3 firmware update
difficult to say which firmware updates will come
but we can definitely expect new firmware updates for Fujifilm X-T3, but which features and when, he can't say
Mixed
Fuji service is still working
he explains how fps works in UK. In short: if you are Pro using Fuji gear, you are in
Fujifilm connect: borrow gear for 48 hours free of charge. You can pay to have it longer
House of Photography will re-open, as soon as the lockdown is over
COVID-19
Avigan is a drug made by Fujifilm back in 2014 for normal flue
now they investigate if it helps against COVID-19
in Japan they are in Phase 3 of trial
other countries have started testing it too
there is commercial impact on Fujifilm, but most important is that the team stay healthy
Join FujiRumors on Patreon,  Facebook, Flipboard, RSS-feed, Twitter, Youtube and Instagram
Our Owners Groups
full episode at fujicast