Fujifilm Manager Talks X-T4 and More: "We Want to Continue Fujifilm X-H Line. Fujifilm X-T3 Firmware Update under Consideration"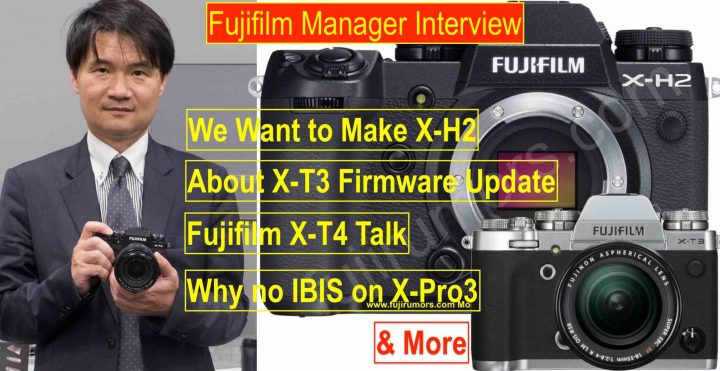 Mapcamera interviewed one of Japanese top managers Mr. Takashi Ueno. They talk about Fujifilm X-T4.
The interview is quite long and in Japanese, so for your convenience I have summed it up all in English down below.
And just in case it was needed, he confirms that there will be a Fujifilm X-H2, as FujiRumors always told you and never doubted for a second, even when the whole universe was saying differently.
In fact, I tell you this: at no point in time, Fujifilm ever considered stopping the X-H line. The line they canceled is another one, and we told you here.
The only thing: the Fujifilm X-H2 is still very far away.
Trust me guys… I know what I talk about, and if you want to be the first to know and be guided accurately through the Fujifilm world, all you need to do is to follow FujiRumors.
In fact, I am working on further explosive rumors. Some will totally surprise you, others will probably disappoint you. When time has come, when things are double checked, when green light is given, you will get it all!
And now… the interview.
Join FujiRumors on Patreon, Facebook, Flipboard, Youtube, Instagram, RSS-feed and Twitter
Fujifilm Manager Interview
Fujfiilm X-H2
Fujifilm wants to continue with the concept of the XH series, which is different from the T series
the X-H series is not only characterized by IBIS
the X-H series is made very tough, has a large grip to make it better usable with long lenses, has a thicker magnesium alloy chassis, it's more robust
All this makes the camera bigger and heavier, but that's necessary to meet professional needs and maintain high specifications
Fujifilm would like to make the XH series a camera with a clearly different concept from the XT series
The Fujifilm X-H line is intended for users who have different shooting purposes and shooting scenes
The mere difference in design and operability does not make it possible for the X-H and X-T series to coexist. Fujifilm is currently studying these issues
– Fujifilm X-H2 will not come in 2020
– New 43MP Sony sensor for Fujifilm X-H2?
– Why FujiRumors pre-ordered X-T4 and will NOT wait for X-H2
Fujifilm X-T4 (and not X-T3s)
X-T4 same sensor and processor of X-T3, because Fujifilm thought that after only one and a half years after the appearance of the X-T3, there was no need to renew the sensor and processor
when changing sensor and processor, Fujifilm wants to make a great progress, and for that you need development time
X-T3″ is the fastest growing model in the XT series, and still has enough performance to be at the forefront of shooting
Some people suggested that the name could be "X-T3s", but Fujifilm sees enough changed to it to call it X-T4
Fujifilm knew that the X Processor 4 had still many possibilities
26 megapixel is a good balance between high resolution and high sensitivity performance, and has been highly evaluated by professional photographers
the X-T4 is the "perfect-X", the strongest X series camera in history
considering the price and size benefits of APS-C cameras and lenses, the X system can be overwhelmingly lower in price compared to full frame
IBIS
IBIS is important also for landscape photographers, as tripods are getting banned in more and more places
IBIS is great also for videographers
with the X-H1, they accepted that the IBIS unit would make the whole camera bigger. But they could not accept this with the X-T4. They needed to keep it more compact
Fujifilm got a lot of know-how from the development of the IBIS for the Fujifilm GFX100, and was able to develop a smaller IBIS for X-T4 with that knowledge
X-Pro3 has no IBIS. But it's mainly for street photography. IBIS suppresses camera shake, so if you are shooting moving subject, you should increase the sensitivity and adjust with the shutter speed to freeze motion. IBIS would just have made the X-Pro3 bigger and heavier. Also, X-Pro3 they did not want to add anything "extra". [I guess he means that the concept is to keep it simple. Hence also even a hidden LCD screen, so you avoid chimping]
Of course, Fujifilm is aware that the IBIS has become the norm. Whether or not the image stabilization mechanism will be installed in the future will be determined based on factors such as the concept, size, weight, and price of the camera.
X-T is different than X-Pro. X-T must be a camera that can do anything. It's an all-purpose machine that can do both still images and videos, so Fujifilm thinks X-T line needs image stabilization.
IBIS works also with third party lenses [admin: but remember what Fuji guy Billy said in this interview: "with manual focus lenses only, you only have 3 axis stabilization, because in oder to know shift, you need to know subject distance"]
how many stops of stabilization mainly depends on the size of the image circle and the focal length of the lens. The camera will automatically recognize the lens and optimize IBIS for it. Depending on the lens to be attached, it may be 5.5 steps or 6.5 steps
with third-party lens or an old lens, the lens information will not be transmitted, so correction will be applied without a limiter. But on your Fuji cameras there is a menu item called ""Mount Adapter Settings", where you can set the focal length. Correction accuracy will increase a little if you use this
if you use full frame lenses, those will be wide enough to avoid vignetting
Vary Angle LCD screen vs 3-way Tilt Screen
it's good for videographers
also, the vari-angle had the advantage of making the camera lighter
If you look at the X-T3's 3-axis tilt LCD, you will need a large metal plate as a base. In addition, the X-T3 can move not only horizontally but also vertically, so a rather elaborate metal plate is used. In terms of weight alone, this alone would add tens of grams
3 way tilt screen has not the flexibility of a vary angle screen
For example, when using 3-way screen at a low angle and a high angle in the vertical position, the LCD tilts in only one direction [explained more clearly by this manager]
the vari-angle that can do everything that can and cannot be done with the tilted LCD until now
Certainly, in the horizontal position, the vary angle screen is displaced from the optical axis and it takes two steps to open, but when the LCD is reflected and it can not be seen well when shooting outdoors, it is easier to see if the angle is slightly changed, or you can shoot while checking the LCD from any position.
vari-angle LCD was indispensable for the X-T4
Make Youtubers Happy
the video specs on the X-T3 are great (10 bit, Eterna, etc), but many youtubers didn't buy X-T3 only because it lacked of selfie screen
Normally, when shooting with RAW or Log, color correction and color grading are performed from there to create the final color, but it takes knowledge and time to achieve a certain level of quality. Just select the film simulation "ETERNA" from the menu, and you can take almost any video you can use
There was always something missing: X-H1 was "only" 4K 30p / 8bit, X-T3 had no IBIS, and finally now X-T4 delivers everything
Autofocus
the X-Pro1 was only contrast AF. And it came with XF35mm f/1.4 lens, which has a focus lens unit 100g or more with a DC motor. There was no way to get fast autofocus with that
the idea started spreading, that the Fujifilm X series has slow autofocus, and that idea stayed in people's mind
still today, people who have not used any Fujifilm camera since the early models, think "the image quality is good, but Fujifilm has slow autofocus"
today modern Fujifilm cameras have phase detection pixel all over the sensor
X-Pro3 and X-T4 have -6EV AF sensitivity
X-T4 has the most advanced autofocus of any Fujifilm camera to date
having 15 fps shutter without any autofocus improvement would be meaningless. The Fujifilm X-T4 has vastly improved subject tracking
Fujifilm X-T3 firmware update
Fujifilm X-T3 firmware update is under consideration
Certainly, it is physically possible to add new functions to X-T3, since the sensor and processor is the same of the X-T4
but the firmware always changes, so you can't simply upload the new X-T4 firmware on the X-T3, hence it is not always be possible to use the new functions immediately on the existing model
In some cases, a special firmware must be newly developed in order to reduce the functions to existing models
In recent years, the competition for sales of digital cameras has been extremely severe, and the number of people and time that can be allocated to firmware development for existing models while continuing to develop new products is limited
Of course, we understand the expectations of our users, so we will consider the features of each model and consider which functions are best to be incorporated into existing models.
The interview in original Japanese can be read at mapcameras.
Join FujiRumors on Patreon, Facebook, Flipboard, Youtube, Instagram, RSS-feed and Twitter
FujiRumors is on Patreon, Facebook, Instagram, RSS-feed, Youtube, Flipboard and Twitter
→ Top X-T Community: Fujifilm X-T facebook group
→ Top X-T Page: Fujifilm X-T Page