5 Reasons Why FujiRumors just Pre-ordered the Fujifilm X-T4 and Won't Wait for Fujifilm X-H2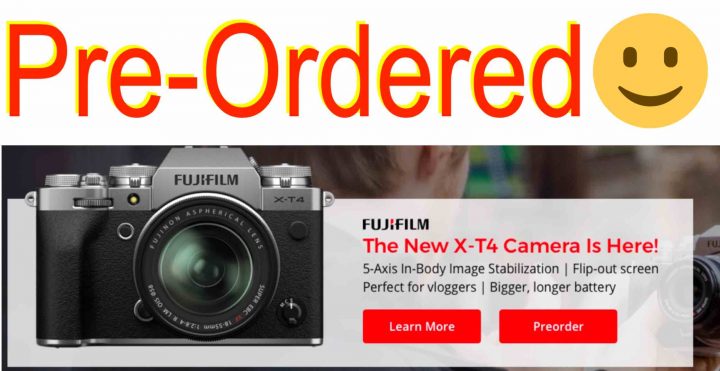 So I did it. I placed my pre-order for the Fujifilm X-T4.
I hope it will come in time for the wedding I will be shooting.
So why did a rangefinder lover like me buy a SLR-styled camera with selfie flippy screen? And why not wait for Fujifilm X-H2? Here are 5 reasons:
I love dials: the Fujifilm X-H2 will have a top LCD screen. I prefer to have an exposure compensation dial… as many dials as possible. That's what brought me into the Fujifilm X system, and that's why I remain there. And I don't care if the Fujifilm X-H2 has 43 megapixel and new processor. Ergonomics are more important than megapixel to me.
I love compactness: the Fujifilm X-H2 will have a massive grip. That's great for many of you, but I like my cameras to be smaller (which is why I shoot also the amazing X-E3)
there is no hiding, I would have preferred a 3 way tilt screen. But then I thought, that I use the screen maybe 10% of the time, as I am total viewfinder fan. And in those 10% of the times, I will get used to flip that screen out. It still allows for portrait orientation (which the X-T100 screen does not). And it still allows for low and high angle shots. But again… my thought… I use the EVF anyway all the time. For the rest I will just keep it flipped inwards, like the "hidden screen" of the X-Pro3.
As you know I am a teacher, and in the last few years I started making more and more videos with my students, as this is an extremely motivating activity for me and for the students. So far I filmed with my X-E3, or X-E2 (which I destroyed). Now it's time to step up my game and get a camera with IBIS and serious video specs. At the beginning of June I will be on a 1 week school trip abroad, and I hope to have the X-T4 to document it.
The X-H1 was close to make it into my camera bag. But looking at the massive autofocus improvements on the X-T4, I just had to pass and get the Fujifilm X-T4.
So yes, I am in. I pre-ordered the Fujifilm X-T4. Now the long waiting begins, just like all of you guys, as I have absolutely no privileged contacts with Fujifilm.
Wait… you want to know which color? Well, make your guess in the comments. I will let you know later on ;).