A Fujirumors X-mas Tale, or why I put my X-E2 into rice, bought an X-T1 and now push the AE-L instead of the Q button :)
Those who follow Fujirumors on Facebook and Twitter will already know about the strange circumstances that forced me to switch from the X-E2 to the X-T1. But for those who don't follow me on the socials, here is why I'm now a proud owner of a (used) X-T1:
A couple of weeks ago, I jumped, together with beloved X-E2 (and two lenses), into a river. It was a quite unpleasant (and rather risky) moment of my life. Please don't ask me how this could happen… I simply acted imprudently and deserve everything, from my broken X-E2 to the high fever that followed a few days later.
I immediately told about the unlucky event to my loyal facebook/twitter fellowship, and I got an advice: put the camera and the lenses into rice… and that's what I did.
I waited… and hoped… for a whole week.
After a week, I took the camera and the lenses out of the rice. I tried to turn on the camera, but nothing… dead, forever. That's life. But at least the 2 lenses survived.
So what, Fujirumors without an X-series camera? No way. I asked for advice. There turned out to be three different options for me: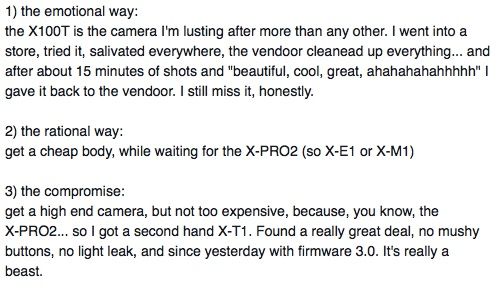 Well, dear X-shooters, I went for option 3, so I got a used X-T1. I simply invested too much money into lenses over the last years, so I decided to stick with X-series MILC cameras.
And here it is, my new baby 3.0 ;)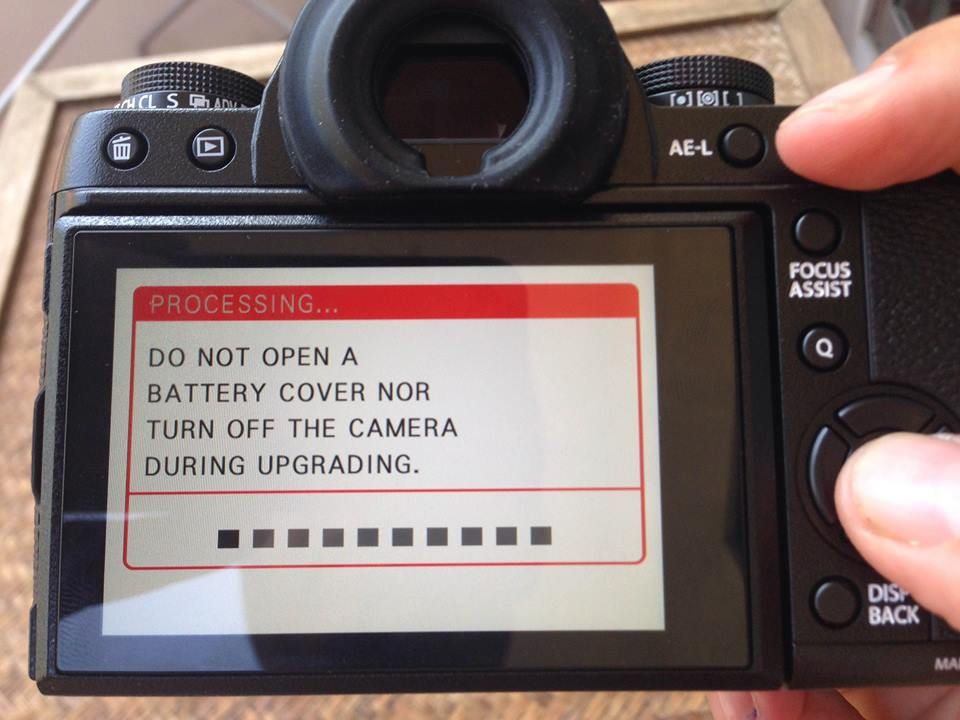 I'm still practicing and trying to get used to the new layout/ergonomics/interface of the X-T1. As of now, I'm still using it the wrong way. For example, it's my first camera ever with a tilt screen, so sometimes I find myself almost lying on the ground to take a shot, and then saying: "Oh wait, I can tilt the screen, cool!"… but there is much more:
So, dear X-shooters, this was the story of my unvoluntary switch to the X-T1. It's such a great camera. The viewfinder is the IMAX amongst the viewfinders, the tilt screen is more useful than I would have thought, the extra dials are great… it's a hell of a camera! But my heart is frankly still there, at my local store, and that 15 minutes I played with the X100T… what a dream!
An X-T1, that's what I found under the X-mas tree :-).
I wish you all great holidays

facebook, google+, RSS-feed and twitter