Fujifilm Manager X-T4 Interview: Vary Angle Screen has Advantages also for Still Photographers, APS-C is Sweet Spot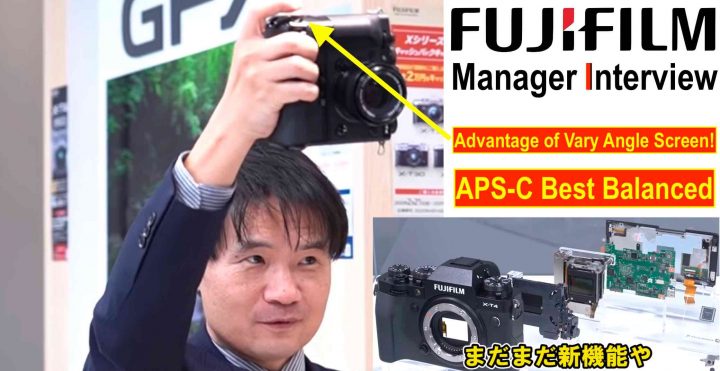 10 days ago, the Japanese youtube channel カメラのキタムラ published two interviews with a Fujifilm manager talking about the Fujifilm X-T4.
Each video is 13 minutes long, and I didn't understand a single word, so I had to rely on the automatic google translator tool, which also had its struggles.
But I went through it, and here are the things I think I could understand.
If some Japanese FR-reader has time, you can do a summary and share it in the comments below.
Video 1
has a vary angle screen
video is improved
still users would have preferred the screen centered to the screen (not flipping outside, like vary angle screen)
I think he says that the vary angle screen has its advantages also for still photographers. For example, when you shoot in portrait mode from above with vertical grip attached, you can tilt the screen in a way, that you can hold the camera better (see the images below)
the vary angle screen allows you to do everything, just in a different manner than before [note: for example, the X-T100 tilt screen can't tilt correctly in portrait mode]
[Watch "Video 1" below starting from 2:23 to see how the manager operates the screen and shows the advantages of the vary angle screen]
Also, vary angle screen allows you to do things you could not before
they improved shutter durability (from 150k to 300k shots) and burst shooting
APS-C best balanced format [the same claim well know industry insiders made here]
Video 2

4K 30p has no crop
if you use electronic image stabilization, you get 90% of sensor coverage, works only for video and can synchronize with IBIS. You often don't need gimbal anymore
he talks about the AF tracking and the improved eye detection
same low light phase detection sensitivity of X-Pro3 (-6EV)
they talk about film simulations and the new Bleach Bypass film simulation
has a new battery, because IBIS means more power consumption, hence larger battery was needed
X Processor 4 is reaching its limit, but it's enough powerful for X-T4, 240p slow motion and so forth
Down below you can see both videos.
→ Top X-T Community: Fujifilm X-T facebook group
→ Top X-T Page: Fujifilm X-T Page
Video 1
Video 2