Sensor Size Sweet Spot is APS-C and not Full Frame, Claim These Industry Insiders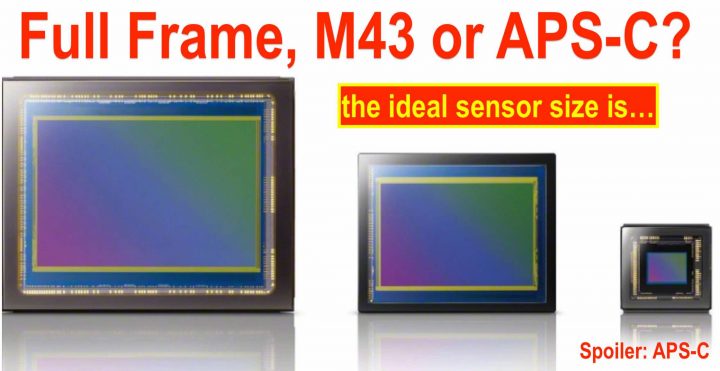 The Ideal Sensor Size
Yeah, let's do it. Let's stir up the spirits, and for one more glorious time, jump fully into the sensor size debate.
The trigger?
And article by DL Cade form Petapixel, who had a talk with Richard Butler (DPR) and Bill Claff (Photons to Photos), about:
Why Full Frame is perceived as the "serious" format
What is the "ideal" sensor size
The first can be answered with the popularity of 35mm in the film era.
But in modern digital times, is full frame really the sweet spot? DL Cade, Richard and Bill answer the following in this article:
DL Cade goes for APS-C:
"I still believe there is a best sensor for "most people" and that this sensor is not full-frame. This sensor is APS-C. […] the performance to size to cost ratio falls into a sweet spot that neither Micro Four Thirds nor full-frame can match.
take the Fuji X-T3, which is a bit closer in price and weight to the a7 III, selling for only $500 less and weighing only 0.25lbs less. In the video department, the Fuji can already record 4K/60p 4:2:0 10-bit internally; Sony can't even do that over HDMI. And it, too, shoots at a faster 11fps in 14-bit RAW, can capture up to 30fps electronically with an additional 1.25x crop, and benefits from a large selection of high-quality, compact lenses designed for APS-C."
Richard Butler says:
"If I needed to buy a camera tomorrow, I'd buy an APS-C model. Full-frame is capable of more (shallower depth-of-field, better tonal quality, better low-light performance), but that improvement comes at the cost of size and, well, cost. It's more than I need. I'd also argue that there are some APS-C models that offer a better balance of stills and video shooting."
Bill Claff on the other hand does not say APS-C is the sweet spot, but gives a more softer "you don't need full frame".
"The [APS-C and FF] performance per unit area is the same—silicon is silicon, active pixels are active pixels. […] APS-C offers a better balance for some shooters […] To me, the message is more 'you don't need full-frame, this is why. It's a softer message than APS-C as the 'sweet spot,' because that all comes down to your definition of sweet spot."
And now…
comment (and disagree) with grace and elegance down below
talk to each other behind the keyboard, as if you would actually sit together at a beer in a bar
Previous articles:
Follow FujiRumors on Facebook, Facebook, RSS-feed, Twitter, Youtube and Instagram
Our Owners Groups
Our Facebook Pages