These Guys Switched from Full Frame to Fujifilm APS-C and Are Happy About it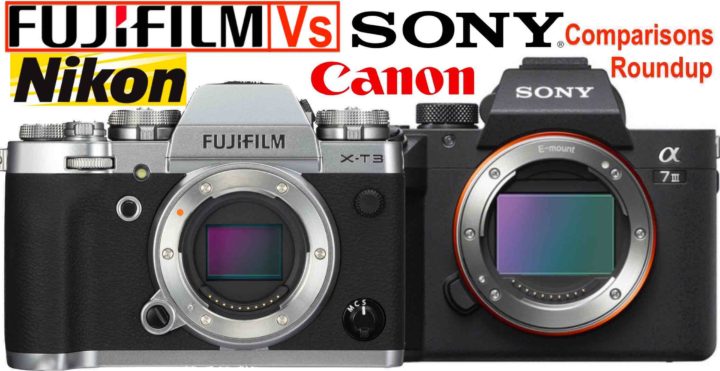 Fujifilm Vs Full Frame
So it's time for another comparisons roundup, this time focusing on people switching to Fujifilm APS-C from Sony, Nikon and Canon full frame, and believe it or not, they are happy with their switch!
In the Fujifilm world, if you really want a bigger sensor, you go Fujifilm GFX, which offers an almost 4 times bigger sensor than APS-C and hence can really offer that ultimate jump in image quality, that the jump from APS-C and FF can not offer.
And before you start complaining, we remind you that we have also shared dedicated roundups of people unhappy with Fujifilm.
LIVE BLOG MAY 23: Fujifilm GFX100 Announcement on FujiRumors!
FujiRumors is everywhere: Facebook, RSS-feed, Instagram, Youtube and Twitter
Our Owners Groups
Our Facebook Pages
Switch Stories
George went from Canon to Fujifilm X-T3, and here is what he thinks about it:
he shot Canon for 24 years
he looked into all brands (Sony included)
Fuji… Wow! Blown away by image quality
EVF with WYSIWYG is great
he uses X-T3 professionally for every single thing he has done in the last 6 weeks, and he is blown away
great usability, super customizable
easy to operate
he shocked and happy by his X-T3 purchase, money well spent
great autofocus
good in finding the face, especially in low light
with his full frame Canon 5D MK III he would not go over ISO 4000, since grain looked so digital
with Fujifilm X-T3 the ISO grain looks more film-alike, more pleasing look
he works with Capture One Pro 12
Thank you Fujifilm for making such an awesome camera. His workload became much lighter, and it does not hurt anymore where it used to hurt
if he shoots 2,500 images at a wedding, 2,400 are in focus
_ _ _

Aron J Anderson switched from Sony A7III to Fujifilm X-T3, and he is a happy man:
switched because of usability, much better than Sony (and any camera he ever had)
3 way flippy screen as opposed to 2 way flippy screen of Sony A7III
functionality makes him feel good and love using it. It's fun.
shadow recovery on Sony has more purple noise than Fujifilm X-T3
Alhtough the Sony A7III will win at pixel peeping level, the sensor performance of the X-T3 is "shockingly close" to Sony A7III
Fujinon lenses are amazing
_ _ _
Charlie Hunt – Time To Switch To Fujifilm!? Goodbye SONY!! His main reasons:
controls/buttons – no need to go through menu
the amazing colour
color science is better than sony
the fujinon lenses are super sharp
the autofocus is actually pretty dope
its fully weather resistant unlike his old sony a7
amazing 4k and helps him minimalise his setup
_ _ _
Aron is a Sony A7III shooter, who recently got an X-T3 and 10 lenses for testing. How do they compare? He shared 2 videos so far (see below), and here are his findings
Fujifilm X-T3 has outstanding and better build quality
Fujifilm X-T3 has so much better usability
X-T3 hands down better EVF and LCD
LCD screen on X-T3 flips in 3 ways
X-T3 has much better jostick
dynamic range comparison: not that big of a difference. Sony is a bit cleaner. For his needs the difference does not matter
Fujifilm better colors
ISO: there is no WOW difference in noise between Fuji and Sony, as there is between Panasonic and Sony. He would use Sony and Fuji on any of his professional shoots
_ _ _
_ _ _
Nikon Full Frame Vs. FujiFilm APS-C (One Year Using Both)