This Guy left Fujifilm for Sony A7III and then Switched Back to Fujifilm X – Read Why Here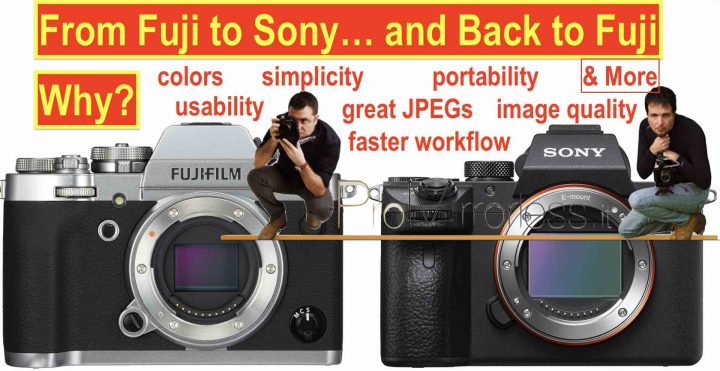 Damiano is an event photographer, who switched from Fujifilm X to Sony A7III. However, after a season with the Sony, he decided to switch back to Fujifilm X-T3 and X-H1.
So why did he switch back?
He discusses his choice in his 21 minutes long Italian video, but you guys are lucky, because Italian is one of the 3 languages I manage better than English, so I make a summary of his video for you down below.
Here we go:
he first used Fuji, then switched to Sony, and then again back to Fuji
to some people asking him recommendation, still today he recommends Sony, even though he switched back to Fuji
Sony currently is the best mirrorless system when it comes to image quality (high ISO and dynamic range) and has the best continuous autofocus
gear must also fit your photography style
he could not "marry" Sony, because he didn't find cameras that suit his photography style
Sony is a system for people who love the technological part of things
Sony menu is very confusing and complex. He lost lots of time finding features, that he didn't put in his "my menu"
You can customize the Sony, but his impression was always more the he had to adapt to the camera, and not the camera to him
he needs simplicity
he didn't feel well with the autofocus
Sony has the best AF-C, but not the best AF-S. He uses AF-C only when there are really fast and a lot moving subjects
For best AF performance he had to use AF-C, but AF-C made him lose connection with the subject. He was stressed by AF-C, because he was distracted by what the camera is doing and where it's focussing
he prefers to use AF Single, even when subjects are a little bit moving. But AF-S is not as fast on SOny. There is a little delay
so he had to change his shooting style, using more the better AF-C instead of his preferred way to shoot in AF-S
he had to change and conform his shooting style to the camera, when it should be the opposite, meaning the camera adjusting to the shooting style of the photographer
so he decided to ditch Sony, and looked at all mirrorless systems again
Panasonic was not yet out
Canon FF mirrorelss lenses are extremely expensive
he liked the Nikon Z series a lot, but the system is not yet mature
he considered M43. But the jump from FF to M43 is quite big. Sony FF files are very flexible. M43 had not the lenses he wanted. M43 is also too technological, meaning they focus more on technology, rather than on simplicity of shooting
so he went Fujifilm again, initially X-T3 and X-T2, and then he found a great deal on X-H1
why Fuji?
best compromise between IQ and portability
if you are used to full frame quality, Fujifilm is the system that let's you regret less the IQ difference with the latest and greatest full frame camera
Fujifilm image quality is very very good
Fujifilm camera usability is unbeatable. Only Leica can beat it
the dials, the simple menu. Once set the camera the way you want, you'll never go back to the menu again
AF-S is very very fast
AF-C is not on par with Sony, but it's very good anyway, and he gets the shots he needs in AF-C
Fuji has the right lenses, fast 1.2 and 1.4 prime lenses. Not crazy prices, more compact than FF
RAW quality is really very good, but does not match the very best FF RAW files
however, JPEG quality is extraordinary. Most natural high dynamic range (DR400).
the great JPEG allow for faster workflow
fantastic colors
his clients prefer the colors that come from Fujifilm cameras
he works much less in post processing, and saves lots of time
he always shoots RAW too, as a back up in case he makes an exposure error
but in many the cases he can go with the JPEG file
Fujifilm was made by photographers for photographers
Sony is a fantastic system with great specs, but it's not his camera and does not make him feel connected to his way of shooting.
Follow FujiRumors: Facebook, Instagram, RSS-feed, Youtube, Flipboard and Twitter
Join our User Groups: Fujifilm X-T, GFX, X-H, X-Pro, X-E and X100 line
New Facebook Pages: Fujifilm X-T, Fujifilm X-H and Fujifilm GFX