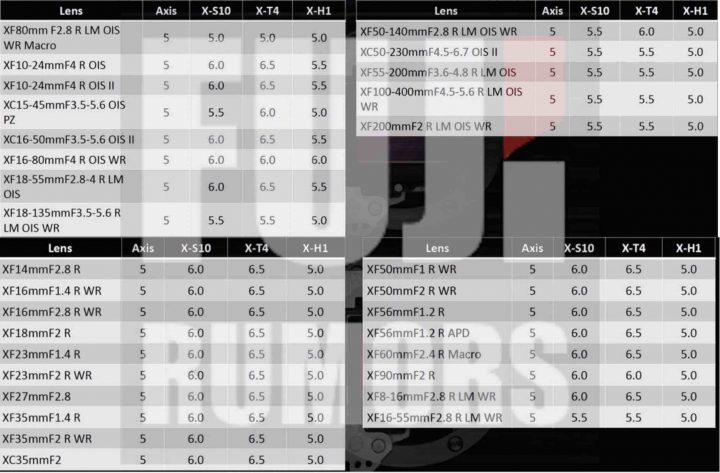 The Fujifilm X-S10 features a brand new IBIS unit.
it's 30% smaller than then one on the Fujifilm X-T4
it's half a stop less effective than the Fujifilm X-T4 IBIS (up to 6 stops instead of up to 6.5 stops)
You can see the IBIS unit of X-S10 side by side with the one of X-T4 and X-H1 in this article.
But which Fujinon X mount lens gets how much stabilization on the X-S10? Well, you can see the answer in the chart above.
Also, the IBIS data above gives you a side by side comparison between X-S10, X-T4 and X-H1.
To sum it quickly up:
22 Fujinon lenses work best with X-T4


XF10-24 MK I – XF10-24 MK II – XC15-45 – XC16-50 MK II – XF18-55 – XF14 – XF16/1.4 – XF16/2.8 – XF18 – XF23/1.4 – XF23/2 – XF27 – XF35/1.4 – XF35/2 – XC35/2 – XF50-140 – XF50/1 – XF50/2 – XF56 – XF56APD – XF60 – XF8-16

7 Fujinon lenses work best with X-T4 and X-S10


XF18-135 – XC50-230 – XF55-200 – XF100-400 – XF200 – XF90 – XF16-55

2 Fujinon lenses work equally well on X-S10, X-T4 and X-H1
XF80mmF2.8 – XF16-80
Remember: Fujifilm declared downsizing IBIS one of the top priorities. And so far it seems they are proceeding pretty fast.
Follow FujiRumors on Patreon, Facebook, Instagram, RSS-feed, Youtube, Flipboard and Twitter