Top 10 Most Important Fujifilm Digital Cameras of All Time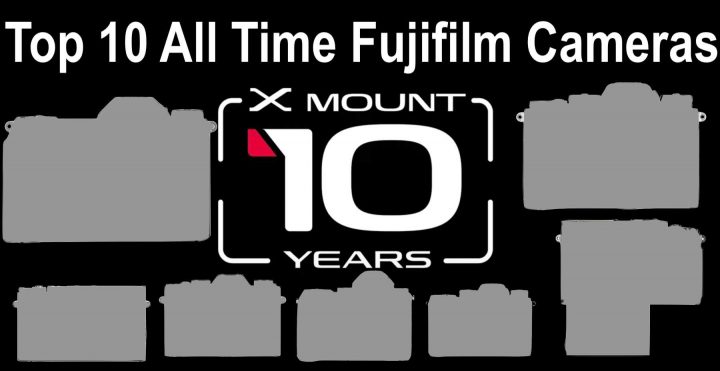 How can I start this article.
Maybe like this.
I was solo hiking through Eastern Europe. In my bag, a tent, food, water, a few clothes. And my DSLR gear.
One morning I woke up very early at the top of the Popluks mountain in Albania, left my tent and enjoyed the sunrise all alone on the mountain peak. It should have been my last day on one of the best kept secrets in Europe, the Albanian Alps. Next stop: a 12 hours long hike all the way to Montenegro through lonely mountains and valleys of rare beatuy.
And I tell you this: when I arrived at my destination, the town of Gusinje in Montenegro, I was exhausted and I promised myself: I need to travel lighter. I need lighter gear.
So I went mirrorless.
Panasonic, Olympus, Sony, you name it, I tried them all. But it became soon clear to me that I was not only looking for lighter gear, but also for gear that I had fun to use.
And exactly in that moment of my photographic journey, 11+ years ago, Fujifilm launched the Fujifilm X series. Then, 10 years ago, the Fujifilm X-Pro1 was announced, introducing the X mount in the photography world.
And that was it. That was exactly what I was looking for.
The rest is history. I fell in love. I needed to share this love. I started FujiRumors.
So I wondered, how can we sum up this long Fujifilm X journey (which is basically just as long as my personal journey with Fujifilm) best?
Well, since Fujifilm is celebrating 10 years of X mount this year, I thought I could make a list of what I consider the top 10 cameras of this Fuji-decade. But, shall it be allowed to me, I will start with the X100, which is technically older than 10 years. But I think you'll agree it makes sense to add to this list.
Attention: we are not (only) talking about the most successful cameras, but also about what I consider the most important ones, beyond the success they had (or not).
So that's my list. Feel free to change and modify it as you want in the comments.
Must Read for X100 Lovers – "Don't Touch that Camera!" the Story About the Inspiration Behind the Fujifilm X100 Series Design
Follow FujiRumors on Patreon, Facebook, Instagram, RSS-feed, Youtube, Flipboard and Twitter
The Fastest Growing Fujifilm Group
Join Our Owners Groups
Join Our Facebook Pages