Top 3 Fujifilm Gear I'd Love to Buy in 2022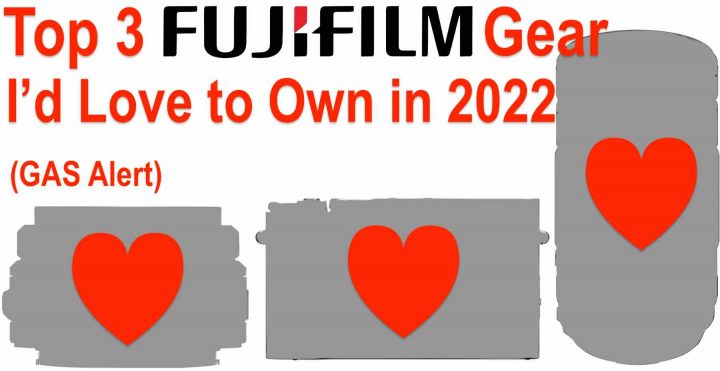 I think I can say that in 2021 I've done a decent part in supporting Fujifilm with my hard earned money, as here is the Fujifilm gear I've purchased:
For as much as Fujifilm made medium format accessible to the masses, buying into the 100 Megapixel GFX system still requires a significant investment. It's worth every penny, but it's not cheap.
So in 2022 I will try to contain my GAS as much as possible and be cautious with my purchases (do I hear you guys laughing?? ;) )
And yet, there is some gear I'd love to buy in 2022. And I mean gear that is either already announced, available or at least on the Fujifilm roadmap for 2022. So this is not about rumored gear.
Fujinon GF 50mm f/3.5
One of the main declared goals by Fujifilm is to make the GFX system smaller. A huge step in this direction was made with the Fujifilm GFX100S, which is already smaller than some full frame mirrorless cameras out there (see the Panasonic S1R) and about as big as the Canon R5. Sure, the GFX lenses are usually bigger, just as Full Frame lenses are usually bigger than APS-C lenses. Well, the Fujinon GF50mmF3.5 serves exactly the purpose to make the system smaller and mounted on my GFX100S, it could give me a very nice combo that I would probably end up carrying with me more often also for casual family stuff. And hey, I need 2 more GFX lenses to reach the average GFX shooters' lens attachment rate* ;)
Fujifilm X100V
I mean, just look at it. It's of a beauty matched maybe only by some Leica cameras. The only problem here is that I own the Fujifilm X-E3 with XF27mmF2.8 R WR, so the Fujifilm X100V would become a bit redundant in my lineup. And yet, it would not only be about its beauty. It also has the pull-up ISO dial from the X-Pro line that I totally love. Combined with WCL-100 II and TCL-100 II it would give me a compact and versatile leaf shutter mini-system. And just like the X-E4 it has that "invisible" tilt LCD screen that I could make good use of every now and then.
Fujinon XF 70-300mm f/4-5.6
You might know how much Iove my XF18-135mmF3.5-5.6, especially when mounted on my X-T4 (you can see the combo here on the Dolomites). But in 2022 I'd love to get a bit more into a photographic territory I haven't explored much yet, wildlife photography. That's why a bit more reach could come in handy then the one the 18-135 can offer me. There are some options here: from the XF200mmF2 to the XF100-400 to the XF150-600mm that is on the roadmap. And why not, also the Tamron 18-300mm f/3.5-6.3 could be a nice option. But taking into account prize and size, I think the  XF70-300mm f/4-5.6 could be a reasonable choice to start with. And for even more reach I could couple it with the XF 1.4x TC WR Teleconverter.
Bonus
Related Article
The Gear
*From the Interview "Fujifilm Manager: GFX Triumph and Full Frame Attack Strategy, Shrinking IBIS, AI Future, Fuji X-H2 Needs Breakthrough, COVID and More"
70-80% of GFX customers were coming from non-Fuji cameras. Most probably from full frame DSLR cameras
GFX sells 50% better than Fujifilm predicted
GFX lens attachment rate: about 3 lenses per 1 GFX camera
Fujifilm X system has a lower lens attachment rate than GFX system