RUMOR: Next Fujifilm GFX with 102 Megapixel (not Monochrome) and Much Smaller than Fujifilm GFX100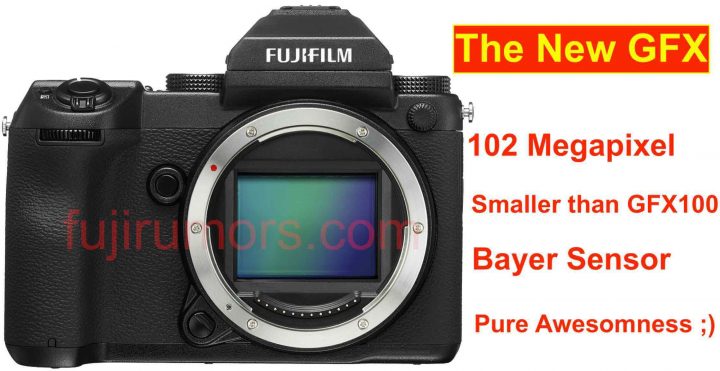 A few days ago we told you that the next Fujifilm GFX will be launched in early 2021.
Rarely I have received so many emails after a rumor, like it was with this one, which is a great sign, as it means the interest among the FR-community is huge for a GFX successor.
I also received a bunch of emails of FR-readers, telling me that this would be a monochrome GFX, which is absolutely not correct, hence here is an update to the rumor, that will set things right.
The next Fujifilm GFX will have the same sensor of the current Fujifilm GFX100, hence a 102 megapixel backside illuminated Bayer sensor with full phase detection coverage. Which still today is basically the state of the art when it comes to sensor technology.
Also, it will be much smaller than the current Fujifilm GFX100.
If you are a GFX lover, make sure to stay tuned on FujiRumors, and also to join our facebook group below. You'll be the first to know more about the new GFX camera.
Follow FujiRumors on Patreon, Facebook, Instagram, RSS-feed, Youtube, Flipboard and Twitter