Fujifilm Rumor Timeline 2018/2019 – The Complete Overview on Upcoming FUJIFILM Cameras and Lenses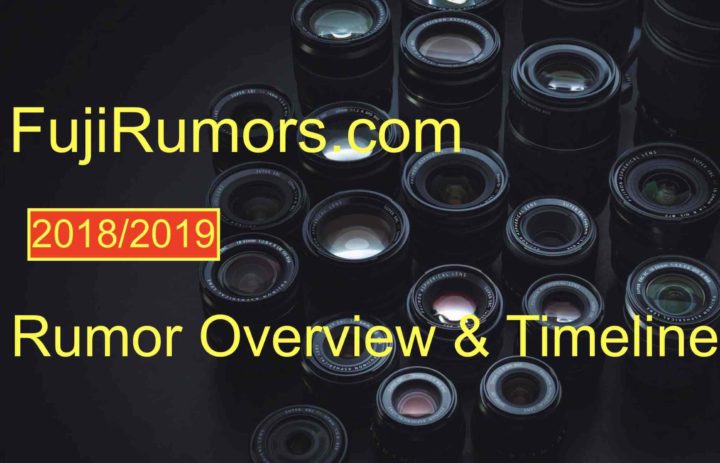 2018/2019 Fujifilm Rumor Timeline
Confused by all the rumors? Then let's put some order into the big buzz :)
So first I'll give you an accurate timeline and then, down below, the detailed rumors with reliabily rating and working link to every single rumor.
Also consider…. we are working on Fujifilm X-Pro3, X200 and all other rumors, but we will share only once we have something more reliable in our hands. Hence, don't panic if you don't see your dream camera listed below. It does not necessarily mean it won't come, but only that for now we have no solid rumor about it share.
Don't forget, FujiRumors is EVERYWHERE :) Facebook, RSS-feed, Instagram, Youtube and Twitter
 Massive Fujifilm X and GFX deals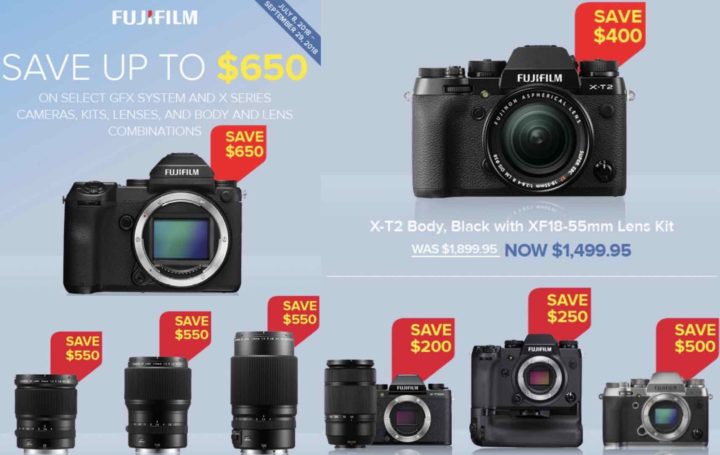 X and GFX Cameras coming 2018/2019
Fujifilm XF10
Announcement July 19, 2018
X70 form factor
Bayer Sensor
no flippy screen
Fujifilm X-T3
Announcement at or before photokina 2018 (end of September)
26MP X-Trans sensor
maybe stacked sensor (still do be confirmed by trusted sources, so grain of salt)
new processor
no IBIS
shipping October/November
touch screen
better battery performance (probably by keeping same battery, since Fujifilm registered a new battery charger for NP-W126s batteries, as reported here)
bluetooth version 4.2 (according to registrations)
Fujifilm GFX 50R
Announcement at photokina 2018 (end of September) or shortly before
50MP Bayer sensor
rangefinder-like medium format mirrorless interchangeable lens camera
X-Pro version of GFX 50S
no final price set at this point, but significantly more affordable than GFX 50S
radio parts like Fujifilm X-H1 and X-E3
Fujifilm GFX 100S
100 Megapixel BSI IMX461 sensor
Sensor already used by Phase One here
More expensive than Fujifilm GFX 50S. Price not final, but could be about as much as Hasselbald X1D
Available in 2019
XF and GF Lenses Coming 2018/2019

Fujinon X mount Lenses
XF200mm F2

Announcement in July
priced around $6,000 with new 1.4x teleconverter
requires new teleconverters. Fujifilm will release the new 1.4x TC first
Beige / white-silver color
Filter Size 105mm
no Drop-In Filter
New Anti-Reflection Coating
Fujnon XF 8-16mm F2.8

Annoncement in July
New Improved Flare Control
New XF lens Roadmap

Fujinon G mount lneses
GF 100-200mm F4.5-5.6

Fujinon GF 35mm F2.8

Tilt Shift lens

Announcement in 2018/2019
GF 20-36mm F3.5-4.5
GF 80mm F1.4
How Reliable are the Rumors?
HIGH RATING*
* 75% to 99% correct
shared in 2018
shared in 2017
MEDIUM HIGH RATING*
*50% to 74% correct

shared in 2018
Fujifilm X-T3 Will NOT Have In Body Image Stabilization (IBIS) (shared January 24)
Fujinon XF200mmF2 will Cost around $6,000 (shared February 6)
Fujinon XF200mmF2 Coming Bundled with New 1.4x Teleconverter for around $6,000 and New Anti-Reflection Coating (shared March 22)
Fujinon XF 8-16mm F2.8 with New Improved Flare Control (shared April 28)
Fujifilm GFX 50R Announcement NOT in July / August, but Photokina (or shortly before). No Price Set at this Stage (shared May 11)
Fujinon GF Rumored Lens Roadmap Update: Tilt Shift Lens, GF20-35mm, GF 80mmF1.4 (not in 2018) & More (shared May 31)
Fujifilm X-T3: Better Battery Performance and Touch Screen (shared June 5)
shared in 2017
Fujinon XF 33mm F1.0 No Longer on Fujifilm's Internal Roadmap … GAME OVER for Fuji's Super Fast Lens? (shared January 30)
Fujifilm Plans 10/15 lenses for GFX in the Next 5 Years (shared December 4)
MEDIUM LOW RATING*
*25% to 49% correct
shared in 2018
Internal Fujifilm Document Predicts 50% Market Share Decrease for Canon and Nikon Within 2021 (shared May 4)
shared in 2017
LOW RATING*


*1% to 24% correct



shared in 2018
shared in 2017