Fujinon XF 33mm F1.0 No Longer on Fujifilm's Internal Roadmap … GAME OVER for Fuji's Super Fast Lens?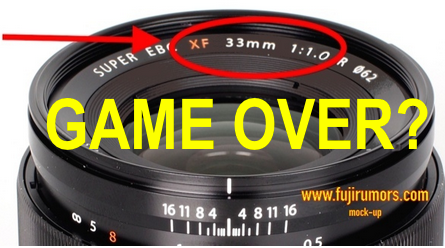 Fujinon XF 33mm F1.0
Back in 2015, I told you here that Fujifilm had plans to develop the Fujinon XF 33mm F1.0 lens.
But something changed in 2016, when I told you here that the terrific success of the XF35mmF2 WR convinced Fujifilm to focus on compact and weather sealed lenses. Also, the GFX + GF lenses came along, and Fuji had to put lots of R&D into the development of a complete new system.
As a consequence, the development of the XF33mmF1.0 had been pushed back (as well as the one of the XF8-16 and 200mm).
So, in these days, I've tried to understand what happened with these 3 long rumored lenses. I was able to confirm, that the XF 8-16 is on Fujifilm internal roadmap and is scheduled to be the lens to come after the XF80mmF2.8 1:1 Macro.
But here comes the bad news:
I had a talk with a long-term trusted sources about the Fujinon XF 33mm F1.0. The source told me, that, at this stage, the XF33mmF1.0 is no longer on Fujifilm's internal roadmap. Hence, the source has big doubts it will ever come.
If you have something to say to Fujifilm about it, this is the moment to say it…. because remember… they do read you ;)
So what do you think… should we start to make some pressure just as we did with the X-E3?
Fujifilm GFX: USA BHphoto – Win $3,000 by pre-ordering at BH via FR*, Adorama, AmazonUS EU: AmazonDE, AmazonUK, WexUK, ParkCamerasUK, PCHstore AUS: CameraPro
*Pre-order the GFX at BHphoto using the FujiRumors B&H link to enter the contest. Price: $3,000. Sweepstake Overview & Rules can be found here. Full Terms & Conditions here.
Fujifilm X100F: USA BHphoto, Adorama, AmazonUS EU: AmazonDE, AmazonUK, WexUK, ParkCamerasUK, PCHstore AUS: CameraPro
Fujifilm X-T20: USA BHphoto, Adorama, AmazonUS EU: AmazonDE, AmazonUK, WexUK, ParkCamerasUK, PCHstore AUS: CameraPro
cheers

Fuji X Forum, Facebook, RSS-feed and Twitter