MASSIVE Deals on Fujifilm X-T2, X-H1, X-T100, GFX 50S and GF Lenses now also at B&H photo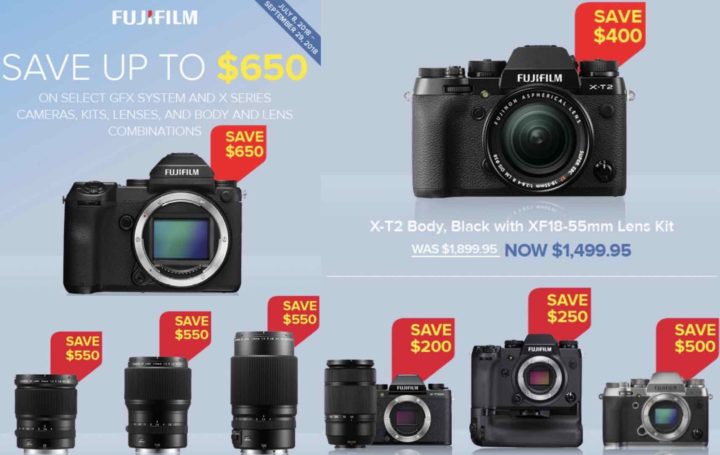 Earlier today Fujifilm USA launched huge Fujifilm X and GFX deals, with savings that go up to $650.
However, at the time of its launch, BHphoto displayed completely wrong prices. They basically nullified the deals by raising prices on all gear for exactly the same amount of the deals.
Well, BHphoto now fixed this, and you can get finally get the deals also there.
Fujifilm GFX
Fujifilm GFX 50s body (save $650): BHphoto, Adorama, AmazonUS
Fujinon GF 63mm (save $350): BHphoto, Adorama, AmazonUS
Fujinon GF 32-64mm (save $450): BHphoto, Adorama, AmazonUS
Fujinon GF 120mm (save $550): BHphoto, Adorama, AmazonUS
Fujinon GF 110mm (save $550): BHphoto, AmazonUS, Adorama
Fujinon GF 23mm (save $550): BHphoto, AmazonUS, Adorama
Fujinon GF 45mm (save $350): BHphoto, Adorama, AmazonUS
Fujifilm X-H1
body only (save $250): BHphoto, AmazonUS, Adorama, Focuscamera
body with vertical grip (save $250): BHphoto, AmazonUS, Adorama, Focuscamera
Fujifilm X-T2
body only (save $500): BHphoto, AmazonUS, Adorama, Focuscamera
body only graphite (save $500): BHphoto, AmazonUS, Adorama, Focuscamera
with XF 18-55 (save $400): BHphoto, AmazonUS, Adorama, Focuscamera
Fujifilm X-T100
with XC 50-230 (save $200): BHphoto, AmazonUS, Adorama, Focuscamera
with XC 15-45 and XC 50-230 (save $200): BHphoto, AmazonUS, Adorama, Focuscamera
Fujifilm X-A5
with XC 15-45 and XC 50-230 (save $200): BHphoto, Adorama, AmazonUS, Focuscamera
Fujifilm X-A3
with XC16-50 (save $150): BHphoto, Adorama, AmazonUS, Focuscamera