This is How Fujifilm Welcomes Xiaomi Mi Note 10 108 Megapixel Samsung/Fujifilm ISOcell Sensor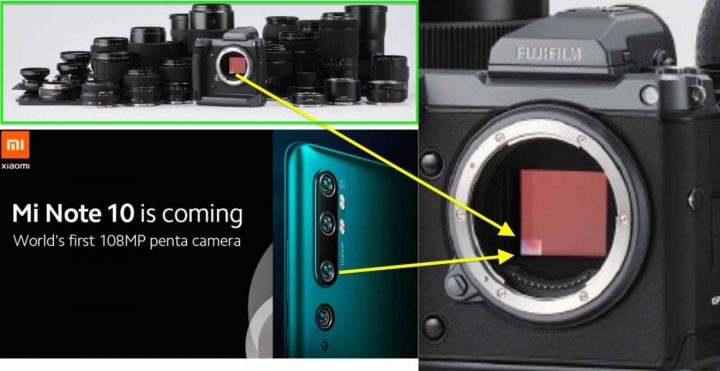 Fujifilm China has apparently given a warm welcome to the 100 megapixel Xiaomi CC9 Pro (or Xiaomi Mi Note 10), which features a 108 megapixel camera.
[google translated] 100 million pixels: Welcome new members!
And in the comments Fujifilm China say:
Encourage Xiaomi's innovation for mobile phones
The image shared at the official Fujifilm China weibo page, shows a little box inside the massive Fujifilm GFX100 sensor, which has the size of the Xiaomi Mi Note 10 sensor.
Now why should Fujifilm do this? Here a few options:
sympathy: they simply welcome another 100 megapixel camera
mockery: they make fun out of of the small sensor (that would be such a bad taste)
conspiracy: they hint to some secret future Fujifilm development
proudly: Fujifilm co-develops the sensor inside the Xiamo Mi Note 10
randomly: that little box and the whole post of Fujifilm mean nothing
I think we can agree that there is nothing more fun than a conspiracy theory, so I will focus on that one :).
The (Super-Short) Story
The Xiaomi Mi Note 10 features Samnsung's ISOcell sensor. The sensor is co-developed by Fujifilm. We have written about it in the past. In short:
Back in 2018 Samsung and Fujifilm officially announced the development of a new CMOS image sensor technology for enhanced light sensitivity and color fidelity, called ISOCELL+ sensor (full report here).
This sensor structure also allows for the revolutionary "pixel merge technology", already used in the Samsung Galaxy A7: the 24 megapixel sensor can, for better low light image quality, combine 4 pixels into 1 pixel and end up with 6 MP files (via samsung.com).
Also the Xiaomi Mi Note 10 has this pixel merge techonology.
read here – Samsung/Fujifilm Pixel Merge Technology for Variable Megapixel Sensor
read here – SAMSUNG talks about ISOCELL Plus Next Sensor Generation in Cooperation with FUJIFILM
read here – Xiaomi Teases 108 Megapixel Smartphone with Fujifilm/Samsung ISOCELL Sensor Technology
The Conspiracy
Now imagine… imagine Fujifilm is sending us a secret message.
Imagine they tell us: "guys, that nice ISOcell sensor, we will put that on future Fujifilm cameras", and the way to tell us this is the image they shared on their official profile (and that you can see above).
I know, that can't be called a rumor, not even a hint… maybe the right name for it is "a dream".
Maybe a Fujifilm X-T4 or Fujifilm X-H2 or even a massive new Fujifilm GFX with ISOcell… wouldn't that be nice?
Follow FujiRumors on Facebook, Instagram, RSS-feed and Twitter
Our Owners Groups
Our Facebook Pages
via Fujifilm via Camerabeta