FujiRumors 2022: Most Read Article, Day with Most Contacts (Surprise: Not X-T5 Launch) and More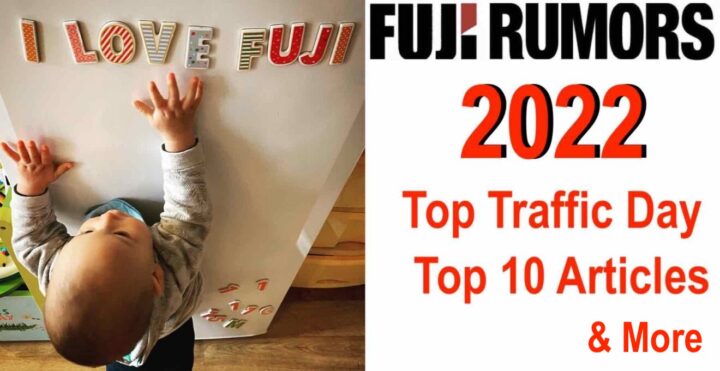 Another year is over. And these are the numbers:
832 blog posts written in 2022
88 rumors shared
97.6% correct rumors (rumor check here)
59,586 comments (average of 72 comments per article)
100% Free ;)
And which one was the day with most contacts? The launch of the X-T5, right?
Well, I'd have bet on it too, but it wasn't the X-T5 launch.
There was another day that generated significantly more traffic and we will unveil it below.
Most Read Article
Most Read Non Rumor Article
Most Read Guest Posts
Day with most Contacts
May 31 – Launch of X-H2s
Nov. 2 – Launch of X-T5
18% less traffic than on May 31
Sep. 8 – Launch of X-H2
35% less traffic than on May 31
So how comes that the most successful camera of all times here on FR (in terms of sales), the Fujifilm X-T5, is substantially behind in terms of traffic to the X-H2s launch?
I have a simple answer to that: the X-H2s was the first camera with the all-new autofocus system and therefore people tuned in massively on May 31 to finally see it at work. And well knowing that the X-T5 would use the same autofocus system of the X-H2s (and X-H2), the launch of the X-T5 was followed by less people.
Also, Fujifilm had already launched the X-H2, which basically mirrored the X-T5 in terms of image quality and AF performance, so that was a further factor that lead to a decreased interest for the X-T5 launch.
Top 10 Articles of 2022
Top 10 Articles of 2022 (without Rumors and Firmware Articles)
[UPDATE] Top 10 Commented Articles
I have added the top 10 hot topics in a separate article after this article, but I decided to also include it here now. For the original article check out this article.
Most watched Youtube Video
Apparently making reviews generates huge traffic, as the video I made about the TTArtisan 27mm f/2.8 has been by far the most seen video on my channel.
And yet, as I have written in my article, I will not make reviews. This was the exception to the rule. I simply have no time for it. But I am happy that you liked the one review I made.
Conclusion
It was a busy, but also a very fun year to cover here on FujiRumors.
I will do whatever I can to make 2023 just as fun as 2022 was. And let's hope Fujifilm will help me in this purpose by releasing some exciting new gear. And even more exciting would be tons of new lovely Kaizen firmware updates ;).
Love you all… and thanks for being part of this community