Fujifilm GFX100S vs Canon R6: Is Medium Format Worth It? This Guy Says "No" (and My Thoughts)
Alex Barrera wonders: is medium format worth it?
In an attempt to figure out the answer, he shared a blind test using the following gear:
In the blind test, all images marked with "A" belong to one camera and all images marked with "B" belong to the other camera.
I did my the test myself, and honestly, right at the very first image comparison (see image below) I thought "oh please let "A" be the the Fujifilm GFX100S". And lucky me, camera "A" is indeed the Fujifilm GFX100S.
Megapixel had not much to do with my preference. It's a compressed youtube video, how could that matter. Megapixel matter more when you work with the files in post, or when you print.
My preference had more to do with the output of the Fujinon GF80mmF1.7 lens itself, which is very similar in terms of shallow depth of field to the RF 50mm f/1.2 L, but the bokeh looked just more pleasing in my eyes. Then there are other subjective elements like the colors (Provia in this case) and so forth. Overall, I mostly picked A (GFX100S).
But what about Alex? Is medium format worth it?
No, it's not worth it, and here is why:
in Lightroom it was very easy for him to tell which one was the Fujifilm GFX100S and which one the Canon R6
the detail, the depth, the color, the fidelity, the images of the GFX100S are just incredible.
when exporting the images and uploading it to Facebook and Instagram, that difference was gone
because of that, for Alex the answer to the question if Medium Format is worth it is "No"
full resolution files: GFX100S blows away the R6
It's hard to explain, the GFX100S files have a look to it that is phenomenal
but exporting to social media destroys that, files are shrunk down to 1MB
many of the clients he works for use his images only for the web. They never print them
you need medium format only if your client asks for 16bit high resolution files
if you want to shoot with Fujifilm because it gives you pleasure and you want the best image quality, then go for the GFX100S
the GFX100S won't make you a better photographer
I get it. Alex has a point. I took my favorite image of all time (and I printed it of course) with a 16MP Fujifilm X-T1! So you don't always need 100 megapixel.
100 megapixel is a lot of stuff, too much at times. I have big prints (90x60cm – 35×23 inches) done out of my 24 MP X-E3 files, and those prints look awesome, too.
However, there have been times where 100 megapixel turned out pretty handy for me, even if just for my "Instagram" use.
Let me explain below.
When Megapixel Can Matter also for Instagram
My most liked image of all time on my instagram has been taken with the Fujifilm GFX100S.
In my opinion, the GFX100S file did a pretty amazing job in "surviving" the Instagram compression. My wife and son still pop out and look very sharp as you can see here.
But here is the thing. The image I've shared is actually a crop of a larger image. And trust me, when you have 100 megapixel files to work with, you can crop in a long time before you reach the point where you lose all that amazing clarity the GFX100S offers you.
Moreover, I will print the image, and despite the crop, I have still so much details in the image, that I can print it rather big.
Ok, I hear you say: just frame it properly, and you won't have any need to crop.
Well, true, but that's now always possible.
In the case of the image I've shown you, I was standing on the lakeside and couldn't walk closer (without getting shoes and trousers wet). The original image had more sky, more forest, more water, hence just more distraction from my main subject.
But since I could not "zoom with my feet", I had to trust that the 100MP would allow me to get closer in post and at the same time retain that incredible sharpness.
Sometimes I find myself in situations like this also when hiking on a narrow path in the Dolomites. I can't zoom with my feet (that could actually turn out deadly), so I have to do it with my gear, either by using a zoom lens, or by having a high resolution camera that allows me to crop a lot. Or, in my case, a combination of both, as I use the GF32-64mmF4 on my GFX100S.
So there are situations, where knowing that I have 100 megapixel available can simplify my life a bit, although I am well aware that in many other cases I don't need them.
It's like IBIS or OIS: maybe you don't need it all the time, but it can come in quite handy at times.
This is why I am also looking forward to the next generation 40 Megapixel sensors for Fujifilm APS-C. The Fujifilm X-H2 will be the first camera to use it. And (not rumor, just hope), I hope that at some point there will be also a Fujifilm X-T5, X-Pro4 and Co with such a sensor, so that people can pick the one 40MP camera they ergonomically prefer.
You Might also Like:
The GFX Gear Used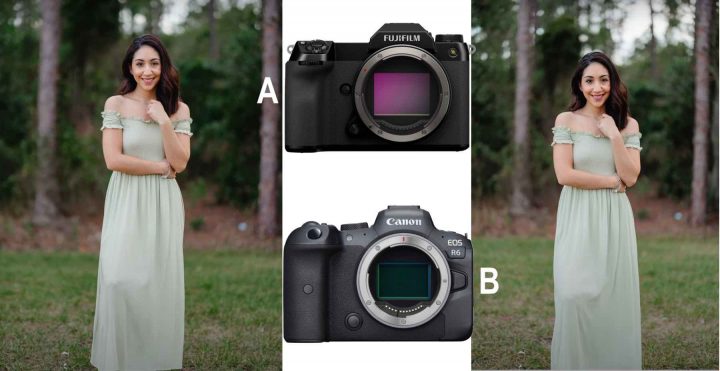 Zoom with Your feet? That can be dangerous sometimes on my lovely Dolomites
Sieh dir diesen Beitrag auf Instagram an
The 100 Megapixel arrive where I Couldn't (unless I decide to get wet shoes and trousers)
Sieh dir diesen Beitrag auf Instagram an