When Images Come to Life: Using GIF-Animations Created with Fujifilm Cameras for Wedding Photography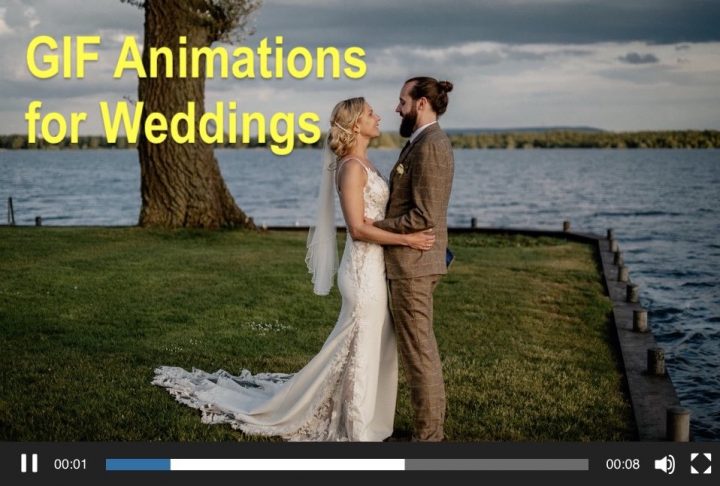 Note: this guest post was submitted to me shortly before the Fujifilm X-H2S announcement. You can contact me at fujirumor@gmail.com if you want to share your own guest post on FujiRumors
Guest Post by Kevin
Hi Patrick,
You have always provided us with all the important news in the last weeks, and probably most Fujifilm users are looking forward to the new camera models. I'm looking forward to the Fujifilm X-H2s with great anticipation myself… At the same time, the current cameras also offer some possibilities that may not be known to everyone.
My name is Kevin Kurek, and I am a wedding photographer from Germany. Some time ago, I started looking for new ways to capture the emotions of a wedding day even better. When I started playing with GIFs, I quickly realized that this is an incredibly great opportunity. Today, I actually get booked for most weddings because of my GIF films.
Today, I would love to show Fujirumor readers the hidden possibilities their cameras can offer them with GIFs.
How can GIFs be used in photography?
GIFs are probably familiar to most from funny movie clips and memes on the internet. Actually, GIF stands for Graphic Interchange Format and represents short animations (with poor image quality).
In photography, GIFs can be used to bring photos from continuous shooting to life. It works, like a flip book, by playing each image one after the other.
 The advantages of GIFs
For a GIF to work, it needs movement. Either the subject can move, the camera can be panned, and sometimes the wind in the trees is enough.
I find that much more feeling can be transported when my bridal couples' favorite images suddenly start to move. The great thing is that I don't need any extra video for this. Without any extra equipment or constantly repeating for double photo and video, it creates an even more beautiful memory of the wedding days.
 GIFs in wedding photography
Especially in wedding photography, there are many great ways to use GIFs. Whether it's the first kiss, the ring exchange or wedding dance, there's a lot of movement in all kinds of moments that are perfect for GIFs.
As I said before, I've started working with GIF videos. These are 2 – 4 minutes long and are a mixture of classic slideshow, mixed with the new GIFs. How something like this can look like, you can see here: https://aloveabove.photography/gif-film-aniela-sven/
 Why Fujifilm cameras are perfect for GIFs
Granted, I've been using Fujifilm cameras since before I started making GIFs. Because of the silent shooting of the electric shutter, long continuous shooting can be done without scaring people in front of the camera with the loud mirror banging.
I also appreciate the light weight of the Fujifilm cameras for long wedding days. It also makes it easy for me to stabilize the cameras in my hand, which is very important for successful GIFs.
But with the X-H2s, it gets even better: the image stabilization is getting better and better, which further simplifies freehand shooting. In addition, the large buffer makes it possible to take very long continuous shots. With the X-T3, I've had the problem a few times so far that the buffer was full, but I still needed an extra second or two. Fear of starting continuous shooting too early has also caused me to start too late a few times, missing a few important moments. That will soon be a thing of the past.
I'm also excited about the ultra-fast continuous shooting, which will then be playable as a slow motion GIF. But even now, a lot is already possible.
GIFs from weddings and couple shoots
As a photographer, I'm always happy to find new techniques and inspiring ideas and then of course try them. Photography is incredibly versatile, and maybe I can give the readers of Fujirumors a little inspiration with my GIFs today:
If you want to know more about me and my wedding photography, you are welcome to visit my website: https://aloveabove.photography
Current GIF movies can be found here: https://aloveabove.photography/gif-hochzeitsvideo
Finally, a short insight into the creation of GIFs, so that all who like can start testing directly.
How to create GIFs from photos?
There are already many tutorials on the Internet on how to create GIFs, so I will keep it short here:
the images have to be loaded into Photoshop using the "Load Files into Stack" command

the timeline must be opened, if it is not already opened

next you need to create a "Frame Animation"

with the command "Make Frames from Layers" all images are added to the frame animation

the playback time can be adjusted for each frame (but it makes sense to choose the same time for all frames – times of 0.1 to 0.25 seconds have proven to work well)

via "Save for Web (Legacy)" the GIF can be exported

for better quality, the export in mp4 format is also possible (via the command Render Video)