"Sony A7IV will Always Have a Special Place in My Heart, But I am Selling All my Sony Gear for Fujifilm X-H2S" and Here is Why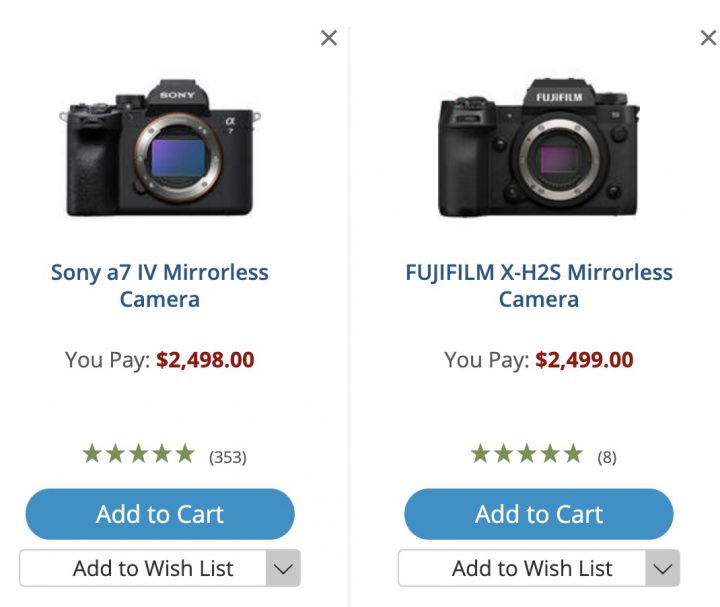 Maybe you have noticed that lately we tried to highlight also reviews from smaller youtube channels, along with the usual big ones.
Now, I won't enter the discussion on why it seems that at least some of the big channels have a conflictual relationship with the Fujifilm managment, leading them to either ignore Fujifilm cameras (some never reported about the launch of the X-H2S) or to review Fuji gear… how can I say that… to review it not with the same care as they do with other brands.
But that's not the article, where we want to talk about it.
What you need to know now is: we will keep covering the reviews of huge channels (in case they cover Fujfiilm, but highlight when they make errors like here and here), but also highlight smaller channels every now and then.
Small channels might not have the best studios, lights and audio, but they are often run by truely passionate photographers, who probably shoot more pictures with their gear out on the field than many of the huge channels combined. So their opinion, at least in my eyes, has just the same value the one of massive youtube channel.
So today we talk about TC, who owns the Sony A7IV and lots of lenses, but after his comparison with the Fujifilm X-H2S, he decided to sold off his entire Sony full frame kit. If you want to know why, you can find the video below as well as a summary.
Why are You Scared of PSAM? ;)
Before we go ahead, just a little consideration of myself. Why are you scared of PSAM?
Look, TC switched back to Fujifilm among the others because it has a PSAM dial and he loves it. So now we have a former Sony shooter coming back to the Fujifilm camp thanks to the Fujifilm X-H2S.
And isn't that what we want? And what Fuji needs? More people shooting with their gear?
What damage does it do to us retro lovers?
Fujifilm has basically already said that there will be a Fujifilm X-T5, X-E5, X-T40, X-Pro4, X100V successor… and all of them with the retro feel we all love. That's plenty of options that will continue to exist for us.
And now let's see what motivated TC to sell all his Sony gear to switch to Fujifilm.
Intro
Fujifilm was his first mirrorless camera
he left Fujifilm for initially Nikon Z50 and Z6II
he left Nikon because he wanted more consistent eye and pet detection
he then went for the Sony A7IV, which has the best colors on a Sony body
the Sony A7IV made him very happy and he is extremely satisfied with it
Autofocus and Colors
he once had the X-H1 and loved it
X-H2S was said to have best AF on a Fuji body and hence he wanted to try it out
Sony is witchcraft level autofocus
the X-H2S is 95% of the AF performance of the Sony
Sony and Fuji are both over 70% when it comes to nail pet autofocus
he loves the Sony colors for landscape even better than the Fuji colors, but in skin tones he gets the yellow and rosiness to the cheeks that he does not see in person and he does not get with the Fujifilm X-H2S
ProNeg Standard is great for skin tones, as it chills out the skin tones
colors are very subjective
ISO/Noise/False Colors
this is where it gets interesting
Sony should be the clear winner
but it's not that simple
lots of cameras, the Sony included, in low light at high ISO makes the subject orange
he thought Sony would win, but in his opinion and testing it didn't
especially at ISO 6400 and ISO 10,000, he liked the noise better from the Fujifilm X-H2S
he looked at the structure of the noise, and the one of the Sony was consistently more "electric" more "hyper" and had more colors in it. An energetic, vibrant hyper noise
Sony noise was not relaxing
the noise from the Fujifilm shocked him: it was a more grainy*, non-colorful and non-electric noise [*admin note: he probably refers to film-grain alike]
he took pictures in all light conditions and some even basically in the dark
he likes the noise structure from the Fujifilm better
Ergonomics
Sony wins the ergonomics
he is happy that Fujifilm X-H2S has a PSAM dial
great ergonomics also on the Fujifilm X-H2S
so, both great, but Sony for him even easier to use [admin note: he using the Sony since a long time now, and the X-H2S only since a few weeks. But he says he will probably still prefer the Sony even after passing months with the X-H2S]
EVF
EVF of Sony is embarrassing. It doesn't matter if it's big if it's not crisp
EVF on the Fuji is the best he has ever seen, ridiculous good EVF
Which is he keeping
He will keep Fujifilm and sell of his entire Sony kit with lots of lenses
he keeps Fujifilm because
– he has 95% of the Sony AF performance
– he prefers the colors and ISO noise at 6400 and 10000 that does not look that bad
– great pet detection
but you can't go wrong with any of these
he will always have a place in his heart for the Sony A7IV
I know the part that most of you will find "strange" is when he compares ISO noise, but he actually noticed something long time Fujifilm shooters are aware of: the more film-like grain at high ISO and the less color noise that results by the use of the X-Trans sensor.