Fujifilm X-H2S Reviews: "X-H2S Trumps the Sony A1, Video Dynamic Range is Impressive"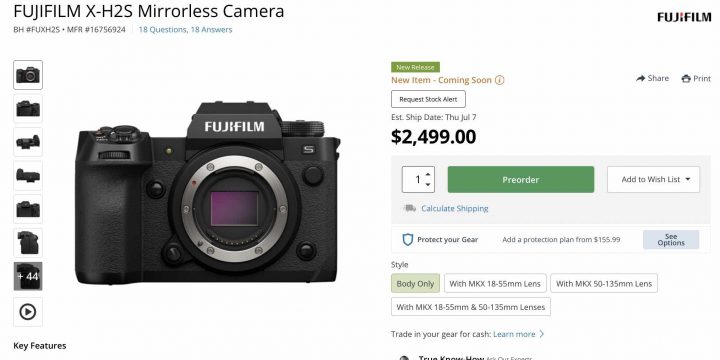 CineD posted their technical test results for the Fujifilm X-H2S. And it's a quite flattering one for the Fujifilm X-H2S. And also Gordon from Cameralabs tested the video side of the X-H2S (after covering the photographic side which we covered here).
And since we talk about the latest and greatest, in this mini-roundup I will add also reviews to the other two latest X gear items, the XF150-600mmF5.6-8 and the XF18-120mmF4.
Lenses
alwinkok – XF18-120mm -A Good Zoom Lens for Photographers?
photographyblog – Fujifilm XF 150-600mm F5.6-8 R LM OIS WR Review
Fujifilm X-H2S
As we said above, CineD shared their Fujifilm X-H2S lab test covering rolling shutter, dynamic range, and exposure latitude. in short:
the FUJIFILM X-H2S definitely trumps the C70 and even the Sony A1, while the 5 stops underexposed image looks almost as good as with the VENICE 2 in 4K ProRes HQ – and we are talking about a full-size cinema camera here. So, a solid 8 stops with additional wiggle room towards 9 stops – that's quite impressive, and is actually better than most of the recent full frame consumer cameras. Good job, FUJIFILM! […]

The FUJIFILM X-H2S fares really well for a consumer camera in our lab test, especially when considering that it is an APS-C camera, not full frame. The rolling shutter performance is very good, the dynamic range results are impressive, as is the latitude test. It becomes clear from these results that the 14-bit sensor readout definitely is part of this good performance. 

So, you could actually say it is a BMPCC 6K on steroids with a ton of additional features like IBIS and all of the other advantages of a true hybrid camera, including a smaller form factor.
Make sure to read the full test at CineD here.
Video Reviews