MARK THIS DATE: Fujifilm X-H1 Announcement February 14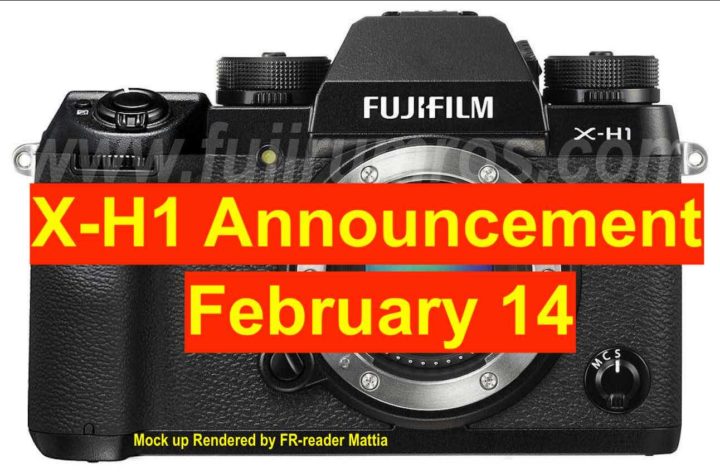 Fujifilm X-H1 Announcement
Wow…
Christmas is just over (I hope you had a good one), and I'm 100% back on track and motivated to make your (and my) time here on FujiRumors as fun as possible.
And it couldn't be different, since right after the Christmas break, the first rumors are now landing into my Inbox.
Hence, after the EVF blackout less rumor here, I have another rumor for you…. and you better mark this date:
Fujifilm X-H1 will be announced on February 14, 2018.
I don't expect last-minute changes by Fujifilm, but if there should be some, I will make sure to let you guys know.
Now go, fellow X-shooters, and spread the word… and don't forget to quote/link to www.fujirumors.com. And just in case you find this rumor reposted without link to FR, feel free to kindly ask to quote FR.
On a personal note…
it seems that Fujifilm has an excellent timing when it comes to new gear announcements, since they will launch the Fujifilm X-H1 exactly during my winter holidays… another planed travel I have to cancel. D'OH!
But hey, I have shared Fujifilm X-H1 rumors since back in July 2017, and after 6+ months of constant rumors, with lots of breaking rumors and detailed specs leaked on FR (see below), I won't miss the final appointment with the Fujifilm X-H1.
That's why I am very excited, highly motivated and 100% focused on the big final launch party with the big live blogging on February 14 here on FujiRumors.
Stick around FujiRumors… we will have a lot of fun… promised ;) .
Follow us on Facebook, RSS-feed, and Twitter and allow push notification by clicking on the bell on the bottom right of your browser.

SUPER X DEALS – Exp. Tomorrow



BHphoto has just launched their 2 days mega-deal zone here, where they offer again the best deals of the year. Lots of savings, here is a small selection. Big savings on X-T1 are back. Just like at the last B&H Deal Zone, until December 28, you can…
Full Report and more deals here.
Full Rumored X-H1 Specs
Accurate X-H1 Sketches and Renderings