Fujifilm X-T4, X100V and X-T200 Rumor Recap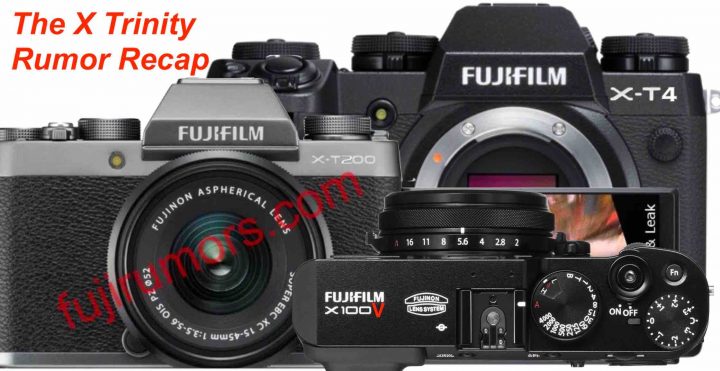 We have broken a couple of rumors, and now it's time for a recap.
And it's not yet over ;).
So make sure to follow FujiRumors on Facebook, Flipboard, RSS-feed, Twitter, Youtube and Instagram
Fujifilm X-T4
After our recent leaks we know:
shipping in March
not to be announced in January, but later
IBIS
All the rest, the 6K60P, the anamorphic ratio and all the rest, comes from a source in our Fujifilm X-T group, who also said X-T4 would come in late 2020. That's wrong, so take the rest with a grain of salt too.
All Fujifilm X-T4 rumors here.
Fujifilm X100V
The oldest in the bunch to be rumored, already since months:
announcement in February
new lens (still 23mm)
it will NOT have the X-Pro3 hidden screen
All Fujifilm X100V rumors here.
Fujifilm X-T200
An X-A7 with centered viewfinder.
Recent Fujifilm X-T200 rumor here.
Make sure to
Our Owners Groups
Our Facebook Pages