EXCLUSIVE: No New Fujifilm GFX Camera Coming in 2020. We have to Wait until 2021 – Trusted Source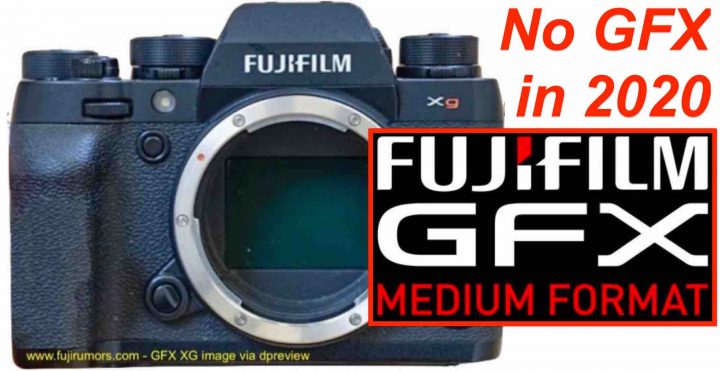 Fujifilm GFX
Hey folks!
I have a very important update for you.
I recently got dozen of emails of worried people, who were about to order a Fujifilm GFX 50S/R camera.
The reason?
Everybody thought, that the last mysterious registered camera, the FF190003, would be a GFX camera, and hence they would buy gear that would be about to be replaced.
But after FujiRumors unveiled them all (X-T4, X-T200 and X100V), they proceeded with their order.
With the name of all imminent cameras leaked, everybody came to the logical conclusion, that there are no GFX cameras that are close to releasing.
But I am here today to tell you it is actually worse than that!
Thanks to our trusted sources, I am now able to tell you, that there will NOT be ANY new Fujifilm GFX camera in 2020!
I believe that the Fujifilm GFX has a enormous potential and if developed at a proper pace, could be a fantastic alternative to all other camera systems out there.
By waiting so long with new GFX cameras, the risk is that Fujifilm could miss the boat and lose the momentum that is bringing so many full frame shooters into the GFX system.
But let's try to see things positive:
if you purchase a GFX now, you can be sure you won't be surprised by any successor in 2020
the long wait could mean that Fujifilm does not want to offer a minor MKII upgrade, but something more substantial
Fujifilm could free up resources to put into the development of Fujinon GFX lenses
Anyway, in 2020, the Fujifilm GFX camera lineup will still consist in:
So this will be the first year, where we do not get a new Fujifilm GFX camera.
If you like this exclusive rumor (and those that will come next), then feel free to follow FujiRumors on Facebook, Flipboard, Instagram, RSS-feed, Youtube and Twitter