Fujifilm Managers Q&A: Canon is Wrong, Full Frame only 1/3 of Market, X-T3 sold 40% Better than X-T2, Fast Lenses for GFX and More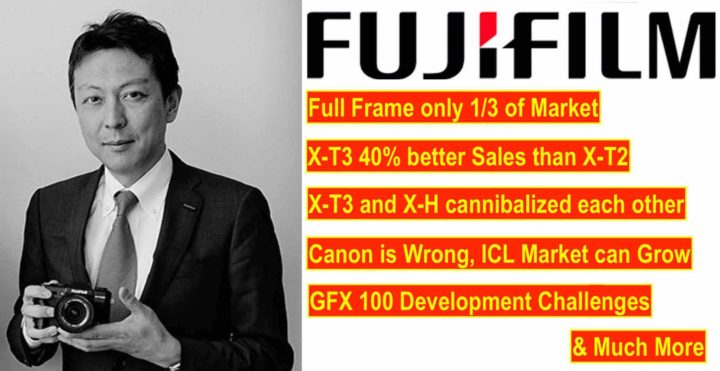 Fujifilm Managers Interview
Just yesterday we shared a CP+ interview with Fujifilm managers here. Today it's already time for another one, this time with Toshihisa Iida (the manager who said Fujifilm will never go full frame) and Makoto Oishi.
It's again an interesting one, that also becomes very technical when it comes to analyzing the autofocus system and lets imaging-resource conclude that Fujifilm's PDAF technology is arguably the most advanced on the market.
Down below you can find the key points and some images of the interview. The complete one can be checked out at imaging-resource here.
Market Future & Canon Predictions
Fujifilm totally disagrees with Canon's prediction, that ILC business is going to contract by half over the next two years
Market will depend on innovation that will come
Fujifilm believes there is room for further grow
Some markets will decline, but other markets have still potential to grow (Asian market)
Full Frame
Customers should have different options
Currently full frame has 1/3 of the market by value
2/3 of market is predominantly APS-C, Micro Four Thirds, and some medium-format
other manufacturers focus on full frame, this might open opportunities for Fujifilm as long as they keep up innovating APS-C and MF
mainly X-T3 and GFX 50R helped Fujifilm to grow by 10% total volume growth
APS-C vs FF is not just about sensor size, but also the lens size, lens weight, overall cost, or the speed, the 4K movies
people judge the system more on the overall package
Fujifilm X-T3 vs X-H line

sold better than expected
Fujifilm X-T3 sold 40% better than X-T2 if you compare to same period since launch
X-T3 and X-H1 have cannibalized each other
with the new lower X-H1 price tag, X-T3 and X-H1 sit nicely next to each other
H-series and T-series will coexist for the future, but we need to clearly differentiate the lineup without confusing customers
Lenses
XF200mmF2 is not only for sports, but also for portraits for very creamy bokeh and concerts for example
GFX System
Fujifilm GFX 50R sales are above expectation and factory is very busy
Fujifilm GFX 100 design is almost final, very early firmware, and IBIS still does not work
GFX 100 megapixel autofocus: same sensor structure as the X-T3
GFX 100 has almost zero competition, because FF is only at 50MP and other medium format cameras are very expensive
Fujifilm thinks at multi-shot high-res shooting mode for GFX100, but has not decided yet
designing IBIS is a real challenge for big MF sensor
Fujifilm has no idea about how many stops IBIS they will achieve [FujiRumors leaked internal press sheets that show they aim at 5 stops]
Fujifilm is still improving image quality via firmware
GFX100 launch in first half 2019 for around $10,000
Fujifilm GFX 50S most popular lens is the GF 32-64mmF4
Fujifilm GFX 50R most popular lens is the GF 45mmF2.8
GFX 50S owners have more lenses than GFX 50R owners
GFX owners complaint about the lack of more fast lenses for the system and Fujifilm is taking into consideration their feedback
Fujifilm listens to customers and tries to make their wishes happen, but sometimes their wishes become reality is very difficult and challenging
As bright as possible, as small as possible, as affordable as possible…
same team works on GFX and X. One R&D budget and depending on needs they are flexible to shift their focus
Autofocus
X-T30 has improved algorithm which will come to X-T3
CMOS sensor is always reading by lines. So it isn't very suitable for horizontal phase-difference […] technically we can make a cross-type system but normally, subjects are more… and horizontally-arranged PDAF pixels support them better
Fujifilm could do vertical AF correlation, but hasn't felt the need to do it
8% of pixels are phase detection pixels (high density), good for low-light and high-frequency subjects
signal and phase pixel are read separately
we used to have like 60 regions within each AF point, but now 240
depending on the light level, the X-T3 can "bin" PDAF pixels together (basically just adding their contents) to get a better signal/noise ratio, and so be able to determine focus even in very dim lighting. Depending on how you do this, you'll trade-off some ability to see the finest details, but it can really help in very low-light conditions
DON'T FORGET TO FOLLOW and JOIN: