Top Fujifilm Manager Toshihisa Iida: "We will NEVER go Full Frame"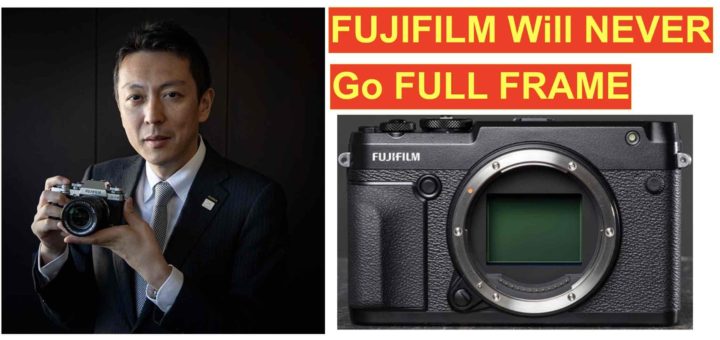 Fujifilm Manager Interview
DPReivew just published the interview they had with top Fujifilm manager Toshihisa Iida at photokina 2018, which includes the clearest statement I have ever heard so far if Fujifilm will go full frame or not. It's a clear "No, never!"
He also opens to the possiblity of an interchangeable lens Instax camera and maybe even cine lenses for the GFX system.
Here some excerpts of the interview.
Q: Will Fujifilm ever enter the full-frame market?
A: No, never. Because we don't have that legacy – luckily or unluckily. We don't see any point in Fujifilm entering that market, particularly since we have good APS-C and medium format systems. If we entered full-frame [our systems] would just start cannibalizing each other. We're happy to stay with two completely independent systems.
Q: Do you see many of your users upgrading from X to GFX?
A: Not quite yet. Because they're totally different systems. […] I hope that in near future more X Series customers will step up to GFX.
Q: GFX 50R and GFX 100S
A: All GFX 50R controls must be reachable with one hand, that was our concept for usability. We wanted the camera to be more suited to street, reportage and portrait photography. The forthcoming 100MP camera is more SLR style, with a detachable viewfinder, more similar to the 50S, but with an integrated battery grip for greater battery capacity. The sensor and the image stabilization system need more power. The biggest challenge was image stabilization.
Q: Will the viewfinder experience of the 100MP camera be better to the current GFX 50S and 50R?
A: It should be a lot better, yes, because the readout speed of the new sensor is a lot quicker. The sensor and the processor itself are both upgraded. The processor is much more powerful.
Q: Video features on Fujifilm cameras?
A: The forthcoming 100MP camera will be the first 4K/30p GFX camera. […] With the X Series we have a plan, for example to extend recording time, and make the menus more usable for still and video shooting.
Q: 100MP and 4K/30p represent a huge amount of data – is SD media still appropriate?
A: I think that SD media and HDMI output are enough for now
Q: Do you welcome third-party lens manufacturers that want to create lenses for XF and GF?
A: They're not open standards as yet, but of course our customers want choice. We're always considering what would benefit our customers, and more lenses are generally beneficial for customers.
Q: Should we expect to see more smaller, compact lenses for GF mount, like the forthcoming 50mm pancake?
A: Yes, in the future we'd like to expand our lineup of compact lenses for GF.
Q: In the past we've spoken about software corrections for some lenses. Do you see a future where your high-quality lenses could be made smaller using software?
A: We always prioritize optical quality first, minimizing software correction. That's our policy at the moment, and I don't think it will change. That's why the APS-C format is important to us. We make the lenses as small as possible, without [a lot of] software correction.
Q: What are the challenges of designing fast focusing large-aperture lenses?
A: A brighter lens means that each element is heavier. So we need to build in more powerful focus actuators, but there's limited space. So it's always a tradeoff of lens brightness, focus speed, and how heavy the lens is.
Read the whole interview at dpreview here.
Fujifilm X-T3: BHphoto, AmazonUS, Adorama, Focuscamera
Fujifilm GFX 50R BHphoto, Adorama, AmazonUS
DON'T FORGET TO FOLLOW and JOIN: