Fujifilm GFX 100 Media Slides: 50% faster AF with Phase Detection at -2 EV @ F2, Why Only One Shooting Mode Dial Explained and More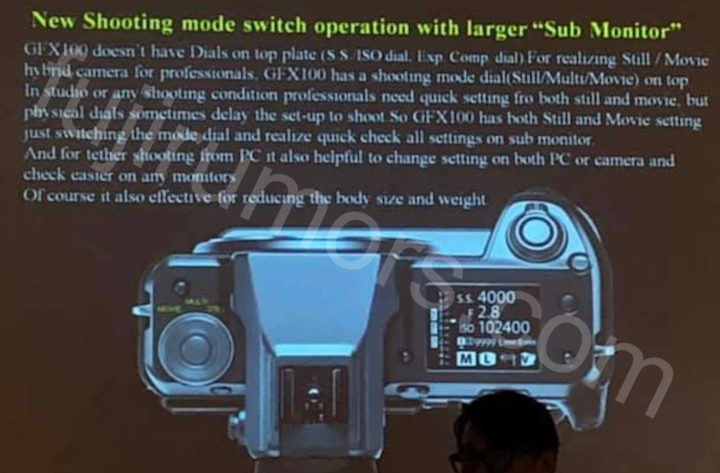 Fujifilm GFX100
The Fujifilm GFX100 removed all dedicated dials except for one "Shooting Mode Dial", which will allow you select between stills, multi or movie mode.
We had a huge debate about the Fuji GFX100 dial removal here on Fujirumors (includes a poll) and mostly people were not happy at all about it, because they feel that dials and retro-controls are part of the X series DNA.
Well, it seems that Fujifilm was not insensible to the mostly negative feedback that came from the FujiRumors community and they now felt the need to explain why they removed the dials. Check the "new shooting mode switch operation" section below.
I will add all the screenshots to all the media slides below, but I also write them all down here on FujiRumors, just in case you are watching this on a smartphone and you don't want to open the slides and keep up zooming in and out to read them… we like to take care of our readers here on FujiRumors ;).
You will also find the hands on images by dpreview, who also said:
textured finish similar to that used on the GFX 50S
integrated grip provides more space for shutter mechanism and IBIS
about the size of Nikon D5 or Canon EOS-1DX II – comparison here
lacks the retro-style dials
large 3-position dial on the left is used to switch the camera between movie, stills and multiple exposure modes
'drive' button at its center
large top screen won't make miss the large shutter speed and ISO dials of its predecessor too badly
EVF clarity and resolution excellent. Free from the pixelation and noticeable lag which affected the finder of the 50S
viewfinder unit is removable, but when the GFX 50S finder is attached to the GFX 100, they won't get the benefit of the greatly improved resolution of the newer EVF
all-new OLED ribbon display on the back, below the main LCD will serve to show the status of key camera settings
tilt and touch screen
While the main shutter dial has an on/off switch collar, the same control on the secondary shutter release serves to lock/unlock the button
Battery life: ~400 shots (CIPA) per single charge
dual SD-card slot
next-generation XQD/CFexpress media in the GFX 100 is being discussed for future products in the GFX lineup
microphone and headphone jacks, plus HDMI and USB, courtesy of a USB 3.0 Type C port
possible to charge the GFX 100 over USB
4K/30, 10bit, 4:2:0 video internally and 10bit 4:2:2 externally via HDMI
GF 45mm F2.8 delivered plenty of sharp images at 1/20sec and a couple of acceptably sharp shots at shutter speeds as low as 1/6sec
GFX 100 could support sensor-shift features in future [already rumored on FujiRumors]
AF speed appears very good, and certainly greatly improved over the original GFX 50S
available on-time, in late spring or early summer.
price around $10,000
Follow FujiRumors on Facebook, Instagram, RSS-feed and Twitter
GFX Zones
Media Slides
GFX 100 Main Specs and Features
1) Best Image Quality in Large MF Format
Announcement 1st half 2019
Shipping first half 2019
Launch price around $10,000
World's first 102M pixels 43.8×32.9mm new BSI CMOS sensor as a mirrorless digital camera
X processor 4
5.76M-dot interchangeable EVF & Tilt Adapter
2) High Speed Medium Format
World's first on board Phase Detection Hybrid AF as a medium format digital camera
approx. 100& coverage PDAF on Sensor area
3) High Performance Medium Format
World's first in body image stabilization as a medium format digital camera
mount: 65mm. Short Flange back: 26.7mm
4) New world with Medium Format
world's first 4K/30p video as a medium format mirrorless digital camera
New Shooting mode switch operation with larger "Sub Monitor"
GFX100 doesn't have dials on top plate (S.S/ISO dial, Exp. Comp. doa) for realizing Still/Movie hybrid camera for professionals, GFX100 has a shooting mode dial (Still/Multi/Movie) on top
In studio or any shooting condition professionals need quick setting for both still and movie, but physical dials sometimes delay the set-up to shoot. So GFX100 has both Still and Moview setting just switching the mode dial and realize quick check all settings on sub monitor.
And for tether shooting from PC it also helpful to change setting on both PC or camera and check easier on any monitors
Of course it also effective for reducing the body size and weight
World's onboard PDAF in Medium Format Camera
Approx. 100% coverage
-2EV @ F2, 50% faster autofocus performance
This large sensor features high-speed phase detection AF. Phase detection pixels are embedded at high density across the sensor surface to provide high-speed autofocusing with excellent accuracy. The camera to reach a new audience in moving subject medium format photography. This system meets and exceeds the create needs of professional photographers.
The Worlds' first 102M pixels mirrorelss camera
New 102 megapixels guarantee not only image quality as the sensitivity, noise and dynamic range. the construction will be "backside illuminated structure". It must be performed for sensitivity and capacity of photons and also support faster aperture by oblique light waves.
World's 1st IBIS in Medium Format Body
102 Megapixel must be sensitive for any vibration. Target performance: 5.0 stops!!
This is the world's first medium format interchangeable lens digital camera, equipped with "In-Body image stabilization". The IBIS functionality rewrites the rules for medium format cameras, giving users the ability to handhold a high-resolution camera in all types of photography scenarios
Follow FR on Facebook, Instagram, RSS-feed and Twitter
RUMOR, NEWS and COMMUNITY
Fujifilm GFX facebook group
Fujifilm GFX facebook page