Fujifilm GFX100 Gets Rid of (Marked) Dials, a Good Idea? VOTE NOW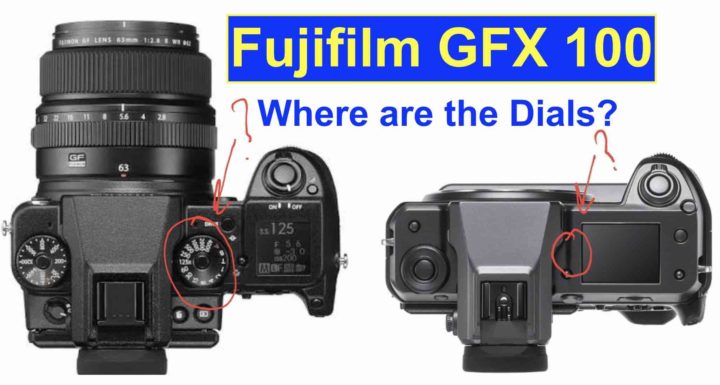 Fujifilm GFX100 Dials
At photokina 2018, Fujifilm displayed the first mock-up of the Fujifilm GFX100 Megapixel camera, which will be announced in the first half of 2019.
And it could not pass unnoticed to the FR-community, that the Fujifilm GFX100S got rid of the shutter dial, leaving only one unmarked and customizable dedicated dial on the left side.
This change has let to some heated (but civil) discussions at our Fujifilm GFX group here, with the community split between those, who applaude this change, and others, who think Fujifilm should have kept their classic dial layout.
Here are some of the comments from this post:
Bigger screen – less dials

Bigger back panel – less clunky top plate

Its the reason I use Fuji, without I might as well just switch to a different brand
Oh please get rid of those useless dials
I do like the iso dial. It shortens the iso changing from three steps to one. (I work in the dark, so have to press the lcd light on before pressing the iso button, then adjusting the dial to the right iso)
Top dials need to stay
I love my dials, but if they made some small buttons with iso/af/wb/etc, I would be able to live with one wheel and no dials
Dials are much easier to operate then digging into 2 or 3 level menues
So what do you think? Is it a good move to minimize the amount of dedicated dials and offer only one unmarked dial, or would you prefer to keep the current ergonomics of the Fujifilm GFX 50S?
And wouldn't that big top LCD be nice, if it was a touch screen? ;)
Feel free to vote the survey below.
Follow FujiRumors on Facebook, Instagram, RSS-feed and Twitter
Fujifilm GFX 50R: BHphoto, Adorama, AmazonUS
RUMOR, NEWS and COMMUNITY
Fujifilm GFX facebook group
Fujifilm GFX facebook page

Loading ...