Fujifilm Manager Says Fujifilm GFX100 has Less Noise than GFX50, Less than 10 fps, OIS/IBIS Combo, X-T3 AF Algorithm and More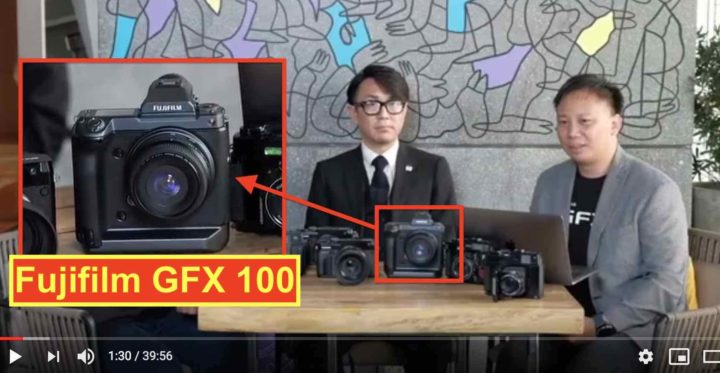 Fujiflm GFX100
Fujifilm Manager Mr.Oishi was at the press event for the Fujifilm GFX system in Thailand and also chatted with the media.
The Thai youtube channel กล้องกล้วยกล้วย published 3 videos of the event, but only 2 are of interest for us (see them at the bottom of the article).
And since I don't want you to lose as much time as I did by listening to Thai questions, the translations into English and then again the Thai translation, I decided to sum up the key points of both videos for you here on FujiRumors.
This and more for my beloved community on FujiRumors ;).
GENERAL GFX MEDIUM FORMAT PRESENTATION
Fujifilm compares Full Frame Size/Weight vs Medium Format, showing that medium format is lighter. But they cheat on lens equivalency (min 06:01). C'mon Fuji, no need for that
3 advantages of Medium Format are Depth of Field, Compression effect and Resolution/Dynamic Range (min 08:08)
Fujifilm discovers sensor equivalency and this time they get also the lenses (almost) right (min 08:54)
Mirrorless G Mount has a flange distance of 26,7mm, but Fujifilm can design lenses that go inside the mount, allowing a minimum focus distance of 16,7mm (min. 11:45)
sensor wants to get the light straight from the lens, so shorter flange distance is better
large sensor allows more stereoscopic effect bokeh (min 15:34)
FUJINON GF LENSES
Fujinon GF 100-200 will be compatible with 1.4x teleconverter. He goes over lens specs at min 17:29
Fujinon GF 50mm specs and details at min 18:09. He says it is not pancake, but "small prime"
Fujinon GF45-100mmF4 coming 2020. He goes over specs and details at min 19:03
Fujifilm GFX50R
Fujifilm "respects" the rangefinder style lovers, so they made the Fujifilm GFX50R
Smaller and lighter for street photography
Fujifilm GFX100 (mainly starting from min 23:53)

Fujiflm GFX100 will have faster sensor readout. They don't know how Full Frame will develop in future and if they can make medium format just as fast
Fujifilm GFX100 focal plane shutter is big and hence not fast enough for 10 fps (min 13:11)
Fujiflm GFX 100 has a backside illuminated sensor with customized photodiods
100 Megapixel are sensible to shocks, so, although challenging to develop, they put IBIS into the Fuji GFX100
OIS – IBIS combo should work also on Fujifilm GFX 100, like it will do on Fujifilm X-H1 via firmware update in December
Another challenge is to make it a Medium Format 4K cinema camera.
100% phase detection coverage
Despite the higher pixel count, Fujifilm wants to keep sensitivity and dynamic range like GFX 50S and GFX 50R. The Manager adds that on GFX100 "noise is actually smaller" (min 25:12)
The Fujifilm X-T3 autofocus algorithm will be implemented in Fujifilm GFX100
Launch in first half of 2019 (already at the Fuji GFX100S announcement, Fujifilm Manager Toshi said it will come in "early 2019")
Additional Fujifilm GFX 100 Information
The following information comes from older manager statements, rumors and articles on FujiRumors, and I add them here so that you guys can have a more complete overview.
Mixed
No plans currently to make a compact medium format camera like the X100 series. Currently focus on making lenses and bodies, but not compact X100 alike camera. It's up to user request (min 27:22)
Phase detection pixels on Fujifilm cameras never damage image quality
Sometimes contrast detection autofocus is better. Fujifilm should balance both, depending on the subject/conditions
X Series, GFX Series and Why no Full Frame
Fujifilm considers balance. APS-C has right sizing, system weight. So it's the best balanced system
APS-C already covers so many photography fields
X-Series can not cover the high megapixel it sometimes needs for fashion, commercials, landscapes, studio, so they went medium format, which allows even higher resolution than full frame
Fujifilm has almost 70 years of medium format camera/lens experience
Fujifilm GFX 50R: BHphoto, Adorama, AmazonUS, FocusCamera
Fujifilm GFX 50S: BHphoto, Adorama, AmazonUS
Follow FujiRumors on Facebook, Instagram, RSS-feed and Twitter
Join our Fujifilm GFX User Group
Follow our dedicated Fujifilm GFX Page