Fuji Guy Billy & Jonas Rask FujiLove Podcast: About Global Shutter GFX Revolution, Dropping Full Frame, XF 16-80mm and More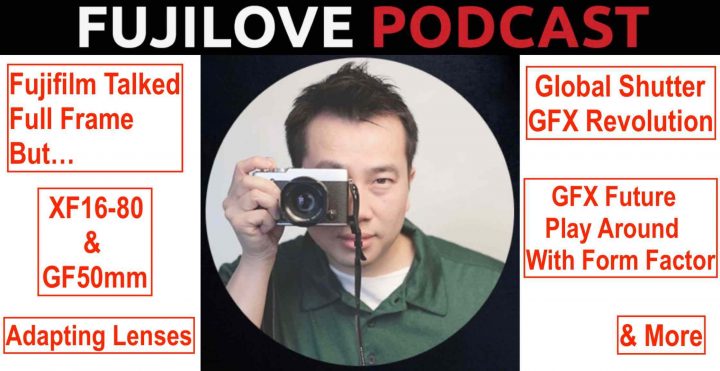 The fifth episode of the Fujilove podcast with Fuji Guy Billy and Jonas Rask just went online. For your convenience, here are the previous 4 episodes:
It's a 1 hour podcast, and in case you are in a hurry and don't have time yet, I cover the whole podcast below. You can listed to it all at sticher and Fujilove.
↓

FUJILOVE PODCAST

↓

BRACKETING and FILM SIMULATIONS
When you are in film simulation bracketing mode, the camera takes 3 JPEGs and 3 RAWs. Billy says there should be an option where the camera shoots 3 JPEGs and only 1 RAW. An alternative is to shoot only 1 RAW file, and then use the internal RAW converter to create images with different film simulations.
Jonas says he doesn't bracket, but he definitely uses film simulations
He also shoots RAW and has presets for Capture One and Lightroom. But his presets are all based on Fujifilm film simulation
It's often a Classic Chrome base, and then edits from there. For black and white he starts with ACROS, which applies different grain structure to highlights, and he can't recreate that alone in post
Billy shoots RAW only, to have to deal with less files. And with Fujifilm GFX100 files are very big, and he does not even want JPEGs that take more space on hard disk.
With GFX100, also Jonas prefers shooting RAW only and use the internal RAW converter to create JPEGs he wants. The internal RAW converter is such a powerful too, that he wishes more people would use it
Jonas & Product Photography
Jonas started with product shots of Fujifilm X70
it was the first camera he beta tested, and he made product shots of it for his review
Fujifilm asked him if they can use the images for the X70 launch
then Fujifilm asked him if he can make also X-Pro2 product shots
his product shots are taken on a black linoleum dining table. It's a black that does not shine, so perfect background
over the years his technique evolved, but it's still all done on that table.
he mostly uses 2 lights, or for more complex shots he needs more lights. But for 1 product, he uses 2 lights only. He recently got the Godox AD200.
in terms of gear, he uses X-Pro2 or X-T2 and XF 60mm f/2.4
XF60mm is really good, and so sharp. Surely one of the most underrated lenses
now he also uses the Fujifilm GFX50R and GF120mm Macro or GF63mm
Billy loves the pure look of the product images that Jonas shoots
Fujifilm tried to let local Japanese product photographers make those product images, but they end up taking Jonas images anyway
Jonas believes that this is because he loves Fujifilm and the products he shoots, and that probably shines through his images. He has a connection to that gear, and feels like making a "portrait session" of it
Jonas is always excited when he gets beta products, especially the titanium alike Fujifilm X-T100 and Fujifilm X-Pro2 were so beautiful when he unpacked them
when he gets a new lens, he tries to think what the key user of these lens is, and then tries to take that type of pictures. So he takes images that he thinks represent the product best
Camera Corner – GFX System
Billy says APS-C was Fujifilm's answer as alternative to full frame, better balanced in terms of size, weight and image quality
Billy says that at some point there were discussions about full frame, but overall Fujifilm felt the IQ leap was just not that different, and they decided to go medium format, for those who look for ultimate image quality
Jonas first reaction at photokina 2016 to the GFX was "that's not for me, I have no use for this camera"
But then he got the GFX50S for product shooting, and he shot over Christmas and New Year, and he was blown away by the files
He was impressed, but still not convinced it was a camera for him
then he tested the Fujinon GF23mm and Fujinon GF110mm, and when he gave it all back, and he started missing the amazing files
then he saw in a GFX forum, that lots of old vintage lenses cover the GFX sensor, and that's what convinced him to buy the Fujifilm GFX
Now the Fujifilm GFX50R is his everyday carry around camera
Billy says the Fujifilm GFX100 is amazing with 2019 technology. Fast and IBIS. But the Fujifilm GFX50R and 50S are still a big leap in sharpness compared to Fujifilm X series.
GF lenses are designed to at least outresolve the 100 megapixel resolution
Billy says the GFX system is not for him
He loves to shoot with it, but the files don't get well along with his 2015 MacBook Air
Billy prefers to take the camera he is going to use most, and that's the smallest and lightest and best balanced, and that's for him the Fujifilm X-T30
Jonas says the Fujifilm GFX100 is the epitome of what the camera industry can produce
A medium format camera that allows you shoot the entire range of photography. It's a supreme tool. And it's even cheap compared to other medium format cameras
What does Fujifilm need to do with the GFX series?
Jonas says Fujifilm needs to do what they do with the X series: play around with the form factor. That's what they did with Fujifilm GFX50R. He owned the Fujifilm GFX50S, but sold it the minute he owned the GFX50R.
Create different user experiences with GFX, by changing the form factor
Billy says the current mechanical shutter takes a lot of space, and the revolutionary point for the system will be when global shutter will be available
NOTE: Fujirumors explained the huge potential for the GFX system with global shutter
without focal plane shutter, it will open up possibilities for new designs
people were very excited, when they saw the modular GFX unit, with attachable parts. But with current technology that's not possible. It needs global shutter
Jonas says the Hasselblad X1D, which has no mechanical shutter, is much smaller than the GFX, but the lenses are larger (and more expensive), because they have to put the shutter in the lenses
Lens Corner
Fujinon GF 50mm f/3.5 is designed for walkaround with Fujifilm GFX 50R. Linear focus, weather resistant, sharp edge to edge
Jonas was expecting that lens with excitement
in the past 7 years, he has not produced as many high quality street images with any piece of Fujifilm gear as he has in the past 60 days with the GF50mm
the GF50mm enables his creativity. This lens has done a lot for him. It fits his creativity. It feels at home on his GFX50R.
Incredibly fast autofocus, even on older 50MP bodies
f/3.5 is more then plenty enough for unsharp background (bokeh)
the GF50mm is a 40mm full frame equivalent
By shooting the GF50mm a lot, he realized that there is this gap between 35 and 50, that actually fits him the best. It is a no-compromise focal length.
the lens Billy was looking forward to.
6 stops of OIS. Lightweight, weather resistant
Billy looks forward to the video aspect of it
stepping motor: fast, quite and silent. And very smooth focus. A perfect video lens camera. Very little focus breathing
Amazing lens that goes with X-T3
sharpness falls between XF 18-55 and XF16-55mm f/2.8
great all in one travel lens
Tip Corner
horizon level. Highly recommended to turn it on
there are 2 different options on Fuji cameras:
1) The simple horizon line that goes all over the screen and turns green when you are perfectly leveled
2) more recent cameras have a 3D level, which provide horizontal but also tilting level. Good for architecture work. You have to assign it to a function button
Jonas uses that feature. It's on all the time.
Lens Adapters
Jonas says that the possibility to adapt lenses was the main reason to get him into the GFX system
there are autofocus adapters for the Fujifilm GFX system
the old lenses are flawed in various ways, and you can't recreate it, and if you use it creatively, you can create unique work. They have their unique character
Billy says Fujifilm offers the H mount adapter G and the view camera adapter
Fujifilm works with Kipon, Fotodiox and Metabones. They have the right specs to communicate with the body (and are under NDA)
But there are other manufacturer, who reverse-engineer their smart adapters
Jonas started with the Techart adapter and he was lucky to get a good sample. But they have a bit of a production issue, and quality checking is not right he hears from other customers
Now Jonas uses Kipon adapters
Make sure to:
and to join:
Fujifilm X Summit
September 20 @ 9AM New York Time
LIVE STREAM and BLOG on FUJIRUMORS
Details Here