Fuji Guy Billy: APS-C Crop Factor Cheating? :: f/2 X Mount Zoom Lenses? :: Fast G Mount Lenses Potentially Coming :: And More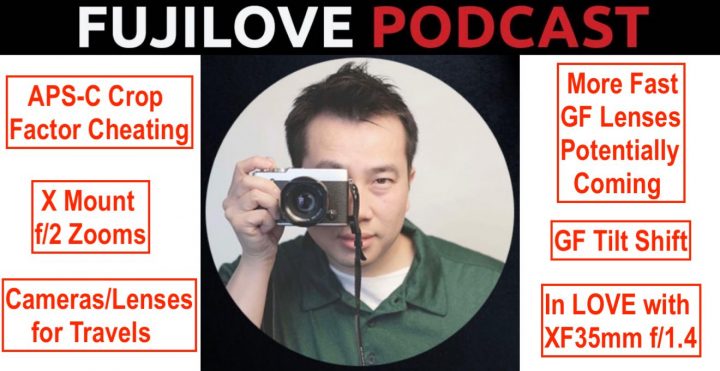 The third episode of the Fujilove podcast with Fuji Guy Billy just went online (episode 1, episode 2, episode 3). You can listed to it all at sticher and Fujilove.
It's a 1 hour podcast, and you can find it all summed up below, in case you have no time to listen to it all right now.
PODCAST SUMMARY
Battery and Settings
You need keep the battery inside a new camera body for a while, to properly charge the internal battery that keeps the settings when no battery is in. If problem persits, send camera to service.
to back-up settings use Fujifilm X Acquire
You can only back-up settings for same model, so settings stored for X-E3 will not be copied on X-T3. Menu varies between cameras
Crop factor cheating
Billy has seen the video of Tony Northurp, where Tony says camera manufacturers cheat, because they apply crop factor only to focal length, and not to aperture [for example they say XF 35mm f/1.4 is a XF 50mm f/1.4 equivalent]
Billy says what Tony says is more in regards to depth of field, and how different sensor sizes affect DOF
f/2.8 on APS-C is and remains f/2.8, but compared to FF, the DOF changes to an f/4.2
on a Fuji APS-C system, f/2.8 is f/2.8, that's "physically"
you have more DOF control with larger sensors
Does Fuji plan f/2 Zoom Lenses and are f/2 lenses technically possible on APS-C?
Fujifilm offers XF16-55mm f/2.8
XF16-55mm f/2 would be much larger lens
f/2 zoom lenses would be quite large on the Fuji X system, and go against what the X series is about (balance between size and weight)
Billy is not sure if he'd ever see an f/2 zoom lens for the X system, but if there is big enough demand for, who knows
Any plans for GF tilt shift lenses
Fujifilm gets lots of requests for native tilt shift lens
Currently not on any roadmap, so Billy can't talk about it
there are adapters for Canon tilt shift lenses
Series of F/2 lenses for GFX system?
Fujifilm had a meeting, discussing this option with photographers
a lot of photographers where asking for faster lenses
in medium format you want extremely shallow DOF
GF110mm f/2 is a much-loved lens
"potentially we will see something like that"
depends on technology, how heavy the lenses will be, and if Fujifilm has the technology to drive the autofocus motors, without making the lens too big and heavy
NOTE: FujiRumors broke the rumor about Fujifilm plans for a GF 80mm f/1.4 back in 2017. Just as it happened with the XF33mm f/1.0, plans have been put on ice. Let's hope they will revive the GF80/1.4 as they did with the XF33/1.0.
XF16-80mm f/4
XF16-80mm f/4 is going to be an all in one beautiful lens, great for stills and video
coming later this year [September]
Fujifilm Commitment to Film
In times of digital, the demand for film has declined. Volume is not enough to re-start any film line. Production high are high
Fujifilm listens to customers, and if there is high demand, Fujifilm should react as a company
Billy sees the appeal to film
Digital cameras are very good, and it's going to be tougher and tougher to release any kind of new film
film is very expensive to shoot
Fujifilm cameras have done a great job with Fujifilm film simulations, giving an organic film-like look (see the selective grain addition in ACROS)
Travel Cameras and Lenses
it's vacation time
GFX100 might be an overkill to take on vacation
mirrorless cameras give quality of professional DSLR cameras in a compact size
from X-A series to X-T are great options for travels
Fuji Guy Billy go to camera is Fujifilm X-T30
any compact mirrorless camera has truly amazing technology, there is no bad camera out there
pick a camera that fits your needs
X-T100 takes absolutely amazing photos. Fuji Guy Billy is shockingly surprised by that camera (which has Bayer sensor). Excellent choice to get into the Fuji system
X-T100 is so easy to operate. Easy to get great results
Many people just bring the kit lens on travels
Billy has always a hard time to choose the right lens for travels
Billy loves images with blown out background, and subjects to stand out, hence he brings prime lenses. Prime lenses also are sharper
Often Billy does not bring a zoom lens
Slowing down with primes, gets him more keepers
with zoom lenses he tends to get too lazy, just stand, zoom, and snap images
He would sacrifice primes to get 1 zoom for long hikes or so
He looks forward to XF16-80. Sharp lens, great all-rounder
Lightweight travels with zooms
if you are picky about quality, take a couple of prime lenses
Billy overpacked in the past, but now he brings 1 or 2 primes, and he is gonna live with what he can capture. He enjoys the pictures more
If you need reach on your travels, Billy would take the XC50-230. It's more plasticky, but small, lightweight and compact. He would take it over the XF55-200
Billy compared the XC50-230 and XF55-200, and the quality of XC50-230 is surprisingly good. Price point is interesting too
Zoom lenses can make things "easy", but if you stick to constantly choose the frame, to work on the picture, you can get great images with zooms
If you struggle to find your frame, set your zoom to one focal length, and shoot only with that, so you start to take pictures more consciously
For 2/3 weeks trips, in the past Billy took the 35/2 and 50/2 (but he didn't use the 50/2 much) and the XF18-55. But 80% of time the XF35/2 is on the lens
These lenses are quite compact compared to DSLR lenses
Currently Billy has the XF35mm f/1.4 glued on his lens. He don't know why he forgot about that, but now he is again in love with that
Next vacation Billy leaves the XF35/2 at home and he takes the XF35/1.4
The stunning images he took in the past, are often taken with XF56/1.2
So now he takes 56/1.2 and 35/1.4. They make images pop, and these lenses make the Fujifilm system
Tips & Gadges for Travels
Tripod can be very useful. But Billy hates carrying tripods
For Billy, primary reason for tripod is taking picture of himself with family. Others need it for landscapes, long exposures and so
Billy has flexible gorilla pods, that fit better in the bag, small and almost no weight
For Billy, tripod must be small and lightweight
For day hikes, Billy would bring small and light (and cheap) tripod, to take himself with family in the shot
Billy uses the gorilla pods most, but even that one he does not bring so often
1 fully charged battery in camera, and 2 fully charged batteries in the bag
Billy always charges the battery fully after every day of usage
Billy has been told that lithium batteries should not be fully charged, as it's not healthy for the battery. But Billy does not follow this indication. He always fully charges them
Tip Corner
Billy hates carrying stuff with him
he often leaves tripod at home, so he can't make the perfect family shot, so often he has to ask a stranger walking by, to take the picture of him with his family
In the past, Billy tried to identify a person who looked experienced (carrying a DSLR), but it happened to him that even then the images could be out of focus
Now Billy does the following:
Fuji cameras have an AUTO switch. Camera turns on everything, including face/eye detecion.
Face/eye detecion is a game changer, and it's very reliable on Fujifilm but also other camera manufacturers
If you don't have face/eye detecion on camera, change setting from single to multi autofocus
change camera to Zone focusing, and take the box and make it fit 40% of the scene in the middle
close aperture down, to make sure it's more easy that subject is in focus
Follow FujiRumors on Facebook, Flipboard, RSS-feed, Twitter, Youtube and Instagram
Our Owners Groups
Our Facebook Pages