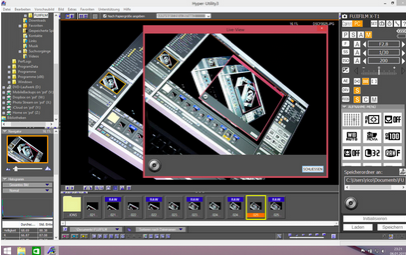 X-T1: Tethering with Adobe Lightroom and Fujifilm HS-V5
X-T1: Tethering with Adobe Lightroom and Fujifilm HS-V5
Talk to Rico (open forum for questions & feedback)
Rico's Books at Rocky Nook – Fuji X Secrets Workshops – Rico's Flickr Sets
The Fujifilm X-E2: Beyond the Manual (use coupon XPERT40 for a 40% discount)
Istanbul Calling – Fuji X Secrets X30 Workshop in Nuremberg
—
My new book featuring 111 X-Pert tipps for X-T1 users will be available as an eBook this month, with a printed version following in March. Let's have a quick look at USB tethering options for the X-T1 that are available after Fujifilm's press announcement from earlier today.
Tethering requires you to connect your X-T1 to a computer with a USB cable. To make it work, select SET-UP > USB MODE > PC SHOOT AUTO. This makes sure that your tethering software (Adobe Lightroom or Fuji's HS-V5) will recognize the camera.
A tethered X-T1 operates in single shot mode only, so the setting of the DRIVE dial has no significance. There are two basic tethering modes: camera mode and PC mode.
Camera mode means that the camera is still operated by the photographer. In this mode, tethering transfers the recorded images directly to the computer for review and further processing. The only remote control capability is a remote shutter release.
PC mode means that the camera can be located elsewhere (like a remote location). It can be remotely configured and controlled from the PC running the tethering software. There's also a live view image on the computer, so the person operating the computer can see what the camera is seeing.
Lightroom Tethering
Adobe Lightroom supports tethering in camera mode only. To make it work, you have to first install a plug-in that's available from Fujifilm (beginning February, 26). This plug-in requires Lightroom version 5.7 or newer. There are different plug-in versions for Windows and Mac OS. You can select the "Tethered Capture" function in Lightroom's "File" menu to access a simple control panel that allows you to remotely release the shutter. And that's about it. Images are immediately sent to the computer; they aren't recorded on the camera's SD memory card. Of course, this also means that you don't have to insert a memory card into your camera to use it for tethered shooting.
Adobe Lightroom offers tethering with the X-T1. The interface is rather basic and only supports camera mode. This means that all settings and configurations have to be performed on the camera.
HS-V5 Tethering
Fuji's HS-V5 software supports camera mode and PC mode, so you can control your X-T1 while you are sitting in front of your laptop or PC. You can choose whether to save image files on your computer or in the camera's SD memory card (or both).
HS-V5 only runs on Windows, so Mac OS users will have to install a (virtual) Windows machine on their computer. Personally, I was using Parallels Desktop and Windows 8.1 to check out a pre-release version of HS-V5 on my MacBook Pro.
HS-V5 sports a pretty hideous user interface—it's based on Fujifilm's ancient Hyper-Utility software. However, this doesn't prevent Fuji from charging for it.
Fuji's HS-V5 software supports USB tethering in camera mode and PC mode. The latter allows you to remotely control almost all camera settings. The software also features a live view window that can be used to select the focus area and release the shutter by clicking in it. However, with its ancient user interface, HS-V5 is far from elegant. Even worse, it isn't free.
For your convenience, here's a TOC with links to my previous X-PERT CORNER articles:
Rico Pfirstinger studied communications and has been working as journalist, publicist, and photographer since the mid-80s. He has written a number of books on topics as diverse as Adobe PageMaker and sled dogs, and produced a beautiful book of photographs titled Huskies in Action (German version). He has spent time working as the head of a department with the German Burda-Publishing Company and served as chief editor for a winter sports website. After eight years as a freelance film critic and entertainment writer in Los Angeles, Rico now lives in Germany and devotes his time to digital photography and compact camera systems. His new ebook The Fujifilm X-E2: Beyond the Manual is available at Rocky Nook.