Mirrorless Camera Market Share 2018 – Sony 42%, Fujifilm 17%, Canon 20% and all Others Far Behind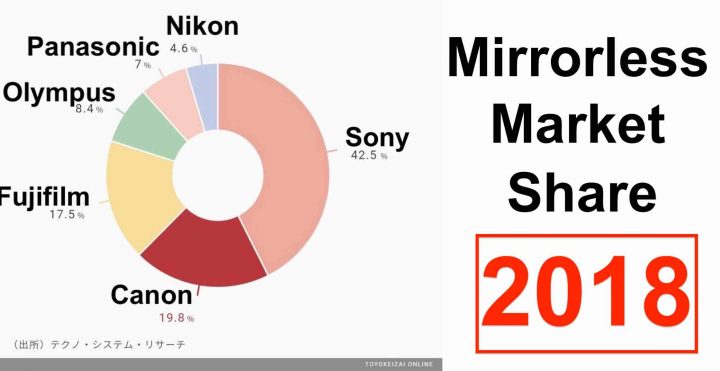 The Japanese site toyokeizai displayed a chart with the mirrorless market share in 2018.
The data itself comes from Techno System Research, a major marketing research company located in Japan.
It shows the following market share:
Sony 42.5% [would be nice to know how much is from their extremely popular APS-C A6000 series, and how much from the also popular A7/9 series]
Canon 19.8% [I guess most is their APS-C mirrorless system, as their FF system is very young]
Fujifilm 17.5%
Olympus 8.4%
Panasonic 7%
Nikon 4.6%
Regarding the data, it is unclear if it refers to Japanese domestic market share or global market share, as toyokeizai just writes:
The mirrorless market share in 2018 boasts an overwhelming 42.5% [for Sony] (according to Techno System Research).
However, earlier in the article toyokeizai writes:
In 2018, global shipments of single-lens reflex cameras declined by about 16% year-on-year to 6.22 million units, while mirrorless sales increased by about 3% to 4.28 million units (Techno System research study).
This seems to indicate that Techno System Research is looking at the global market share.
Now, I started blogging on FujiRumors (and owning Fuji gear) when Fuji's global market share was about 0.1%.
If, at that time, one of my 7 daily readers would have told me that 9 years later Fujifilm would grab 17% of the global mirrorless market share, I'd have declared that person for crazy.
So, seen from this perspective, Fujifilm experienced a fantastic growth.
However, in a market changing so quickly, you can't live off the past achievements.
Fujifilm has to work hard to turn around the current situation, which sees a 12.4% revenue decrease compared to the same quarter of the previous fiscal year.
And what Fujifilm has to do, is not to hesitate and give us immediately a Fujifilm X-H2 maybe with Samsung/Fujifilm ISOCELL+ sensor and also a Fujifilm X-T4 would not hurt.
read here – Internal Fujifilm document predicts 50% market share decrease for Canon and Nikon within 2021
Follow FujiRumors on Facebook, Flipboard, Youtube, Instagram, RSS-feed and Twitter
via toyokeizai via tsr