Fujifilm X-T4: Tilt Screen Clarification and Survey on Which Selfie Screen you Prefer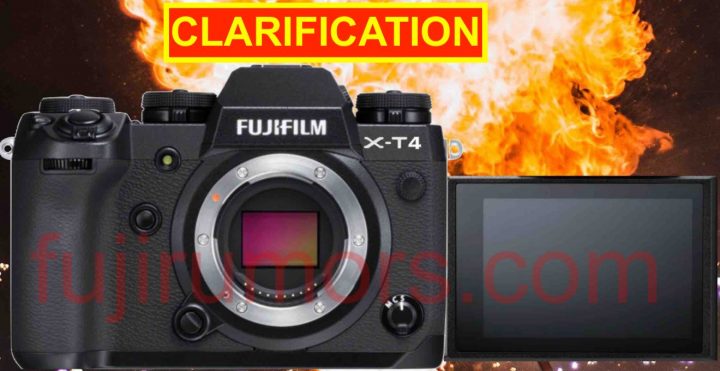 Ok, this is a mandatory clarification.
The original rumor of a Fujifilm X-T4 with tilt screen was shared by J. at our X-T facebook group here. I also talked to J., and he confirmed it. And as here on FR we don't need and don't like it to take other rumors and sell them as our own, we are happy to quote J.
But here is the point:
J. said the tilt screen will be like the one of the Panasonic S1H.
But I noticed a tendecy on the web, to attribute to FR also the S1H alike rumor.
So I just want to clarify, that all FujiRumors sources told us only about a "selfie flippy screen", but not which kind of selfie screen it will be. Will it be like on the Fujifilm X-T200, or like on Fujifilm X-T100, or like on the Panasonic S1H? At this point, we do not know. We just know vloggers will be happy about it :).
I thought I need to set this right, as I don't want any reader to be mislead here.
For us, this post is also a welcome opportunity to ask you, which selfie flippy screen do you prefer, X-T200, X-T100 or Panasonic S1H? Vote down below.
And… for the real Fujifilm addicts out there:
And yes… there will be a new battery, don't worry about that ;).
Previous X-T4 Rumors
SEE THE VIDEOS AND VOTE
Down below are three videos, they all start at the point, where you see the screen in action.
X-T100 screen: tiltable up and down still centered to camera body. You can flip it out in selfie mode
X-T200 screen: classic fully articulating screen. If you want to tilt up or down, you must move it out all the way on the side of the camera. No longer centered. But you can flip it inwards, to protect the screen
S1H screen: You can tilt it down still centered to the camera. And fully articulates when moved out on the side of the camera. You can flip it inwards towards camera body, for protection. It has a more bulky design, but allows to move the screen more away from the camera, potentially keeping it more far away from the cables you might have attached on the side of the camera body

Loading ...