CONFIRMED: Fujifilm X-T4 Coming with Selfie Flippy Screen, as Rumored Back in November by…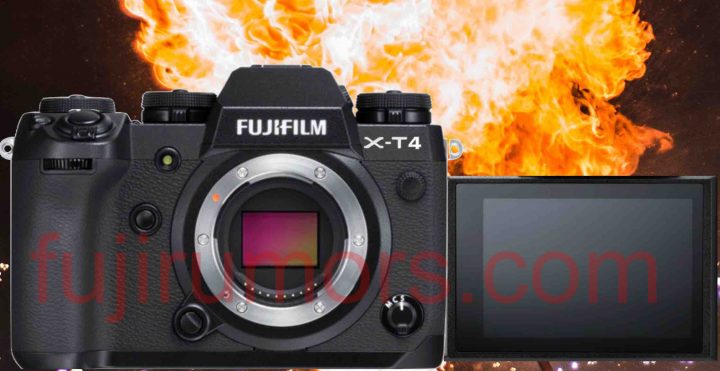 Fujifilm X-T4
We want to start this rumor, by giving credit, where credit really belongs.
Hence, credit goes to J. from our fantastic X-T group, as he was the very first to tell to the Fujifilm world about the Fujifilm X-T4 with selfie flippy screen back on November 21, 2019 here. J. wrote:
fully articulating flippy…essentially a Panasonic S1H but APS-C with Fuji color and obviously much smaller
Well, FujiRumors made its checks (also thanks to new sources!), and we can now confirm that the Fujifilm X-T4 will indeed have a flippy screen.
→ Top X-T Community: Fujifilm X-T facebook group
→ Top X-T Page: Fujifilm X-T Page
If that's a good news or not, feel free to let us know in the survey down below.
And what else did J. tell us about the Fujifilm X-T4? Well, here is the rest of his list:
X-T4 with IBIS
expect a T4 about 1/3 of an inch thicker, and about 5-6oz heavier
On a good note expect 6k60 and 10bit internal
anamorphic ratio
release end of 2020
X-H line most likely canceled
The Fujifilm X-T4 release end of 2020 is not correct. The official Fuji X-T4 announcement is set for February 26. And as we hear from our sources (and top Fujifilm managers confirm), the Fujifilm X-H2 is still on the roadmap, but not for 2020.
But J. got the IBIS right and the selfie screen. And it's objectively not easy to get long term rumors right, as Fujifilm is prone to plan changes. So what J. told us might have been correct at the time of sharing, but could be partially no longer valid now.
So, we keep up working, and will try to deliver you more rumors in the next few days and weeks. Stay tuned.
Previous X-T4 Rumors

Loading ...