Fujifilm APS-C is Dead? Nikon Z5, Sony A7III, Canon R6 vs the Fujifilm X Series Art of Balance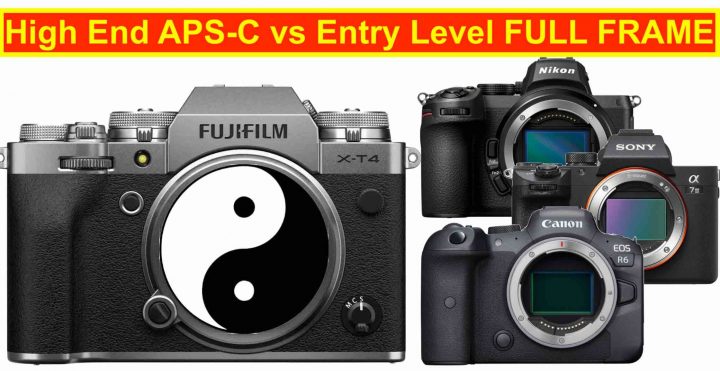 High End APS-C vs Entrly Leve Full Frame
First off let me say this:
I am a fan of competition. I want camera manufacturers to fight for customers, to work hard, to squeeze new tech into cameras as much and fast as possible for the most affordable price they can.
Hence, the more sub $2,000 full frame cameras hit the market, the more I am happy, that also Fujifilm ASP-C shooters like myself will profit from it in the long term, as this will push Fujifilm to work harder than ever.
So, I personally welcome the brand new Nikon Z5, the Sony A7III, the Canon EOS RP and also the Canon EOS R6.
But there is something I do not understand…
I blog on FujiRumors since almost a decade now, and over all these years, I have heard many times announcements of the death of the Fujifilm X series since the launch of the original Sony A7. And the same "Fujifilm APS-C is dead" voices come back today, after the announcement of the Nikon Z5.
Now, let's look at a few facts:
after many years of death proclamations and multiple full frame mirrorless cameras, Fujifilm X is still here
not only "we are still here", but even in times of COVID-19, Fujifilm is the only brand, that didn't see a massive sales decrease (report here)
until 2018, in terms of worldwide mirrorless market share, Fujifilm came third very close to Canon, far ahead of Olympus, Nikon and Panasonic (report here)
So here is the thing: either customers are stupid, or they see it the same way as these industry insiders (DPReview included), who claim that APS-C is the sweet spot.
To be clear: the Nikon Z5, Sony A7III, Canon EOS RP and the Canon EOS R6 are all very nice cameras.
But there is one thing, that sets Fujifilm X apart from all those "entry level" full frame cameras: it can squeeze so much tech into sub $2,000 cameras, that other brands can not.
Or, in other words: their main selling point (full frame), becomes their main limitation, since if you want to deliver full frame cameras under $2,000, you have to cut costs on other sides.
Let me explain.
Entry Level Full Frame vs High End APS-C
The Sony A7III comes for a retail price of $2,000, but in order to meet this price, it can't offer two UHS-II card slots, the electronic viewfinder has a low resolution, it can't offer the advanced video features of the X-T4, hence no 4K/60p, no 10 bit, no high Mbps etc. and more.
The Nikon Z5 price tag is even more aggressive, with $1,400. Unlike the Sony A7III, it offers dual UHS-II card slot and a high resolution viewfinder. So is the the perfect camera? Nope, because in order to keep price down, it has to use an old non-BSI sensor technology, which has a slower sensor readout, hence max 4fps, huge 1.7x crop in 4K30, and probably also lower dynamic range compared to other full frame cameras. Also, it has a bottom and top plate made out of plastic instead of magnesium alloy.
The Canon EOS R6 tries to to do better than the Sony A7III and Nikon Z5, by not compromising on video and hardware features (dual UHS-II, nice video specs, nice viewfinder), but that makes it immediately climb up at a $2,500 price tag, hence significantly higher than the Fujifilm X-T4. Sure, there is also the Canon EOS RP, but that is better compared to something like an X-T200.
And the Fujifilm X-T4? High resolution EVF, dual UHS-II card slot, great video specs such as 4K60p, 10 bit, 400Mbps and more (and not to forget the smaller lenses). It's a complete package that leads industry insiders to claim that APS-C is the sweet spot. And Sony itself said here that APS-C has advantages for video over full frame.
Beyond Price and Sensor Size: an Attempt of a Conclusion
I feel like often we look just at sensor size and price, and we don't really look at the complete package.
With that said, I know every article needs some sort of conclusions, and I will try to make mine.
My conclusions could be summed up with "the art of balance" vs "the need for compromises".
For me "balance" is a system with nice small lenses, not too expensive, solid image quality and video specs, portable, nice build quality etc.
And this is what Fujifilm APS-C offers me.
I don't want to compromise on sensor technology (slow readout of non BSI-sensor on Nikon Z5), I don't want to compromise on video features (Sony A7III), I don't want to spend too much (Canon R6 camera and lenses).
If that means, I have to shoot APS-C, to get a well-rounded and complete package, that, we should not forget it, has an dynamic range that is still superior to absolute full frame workhorses like the Canon 5D MK III and even very close to the more modern Canon 5D MK IV, then that's what I call "balance".
In fact, also DPReview says that "there are some APS-C models that offer a better balance of stills and video shooting."
It's clear that Fujifilm believes into this balance, too, and decided to go medium format for those of us, who need the ultimate high resolution and are ready to do more compromises on other aspects of a camera.
That's my take on it, that has no pretension to be the truth. It's just a personal opinion. Disagree with it, totally ok. Just do it with elegance.
Oh, yes… not to forget, Fujifilm X cameras look awesome, that helps too for my buying decision ;).
Follow FujiRumors on Patreon, Facebook, Instagram, RSS-feed, Youtube, Flipboard and Twitter
Our Owners Groups
Our Facebook Pages