First Look: Fujifilm X-T10

PRE-ORDERS (and support FR)
X-T10 Pre-order Options
available June 18 according to BH

X-T10 body: USA: AmazonUS / BHphoto / Adorama EU: AmazonDE / AmazonUK / AmazonFR / WexUK / Cameraworld / PCHstore / AUS: Camerapro
X-T10 + XF 18-55: USA: AmazonUS / BHphoto / Adorama EU: AmazonDE / AmazonUK / AmazonFR / WexUK / Cameraworld / PCHstore / AUS: Camerapro
X-T10 + XC 16-50: USA: AmazonUS / BHphoto / Adorama EU: AmazonDE / AmazonUK / AmazonFR / WexUK / Cameraworld / PCHstore /
Fujifilm MHG-XT10 Hand Grip: BHphoto / Fujifilm BLC-XT10 Leather Case: BHphoto /
XF 90mmF2 WR Pre-order Options
available in July according to BH

XF 90mmF2 WR: USA: AmazonUS / BHphoto / Adorama EU: AmazonDE / AmazonUK / AmazonFR / WexUK / Cameraworld / PCHstore / AUS: Camerapro

First Look: Fujifilm X-T10
Talk to Rico (open forum for questions & feedback)
Rico's Books at Rocky Nook – Fuji X Secrets Workshops – Rico's Flickr Sets
The Fujifilm X-E2: Beyond the Manual (use coupon XPERT40 for a 40% discount)
NEW: The Fujifilm X-T1: 111 X-Pert Tipps (use coupon XPERT40 for a 40% discount)
X-T10 Official Specs and Information
Rico's X-T10 RAW/Lightoom Sample Images — Ricos's X-T10 SOOC JPEG Sample Images – Rico's X-T10 AF Tracking Samples
—
As of today, the new X-T10 is Fujifilm's most important camera release in 2015, and it's clearly targeting both the mainstream and enthusiast market alike. Basically, the X-T10 is a smaller, lighter, cheaper version of the X-T1, even adding a few features that the X-T1 (with firmware 4) can't offer:
The DRIVE dial is easier to operate
Back buttons are more comfortable to use
Mechanical remote shutter release option (in addition to the usual electronic release options and wifi remote control)
There are 7 function buttons (only 6 in the X-T1), since the video recording button also works as a Fn button
Front and rear command dials can be depressed (like in the X-E2), and the front command dial also works as a Fn button
Built-in flash
Scene Position modes and SR+ (scene recognition full-auto) mode make the camera useful to inexperienced shooters. Auto mode is easily accessed with the new Auto switch, and SR+ or Scene Position options can be picked by simply pressing the rear command dial and browsing through the options (such as Portrait, Sports, Night Scene, Beach etc.)
Three different Auto-ISO settings which can also be stored in C1-C7 custom settings
Auto brightness for the EVF (like in the X30 and X100T)
Like the X30 and X100T, the JPEG engine produces larger (and hence more robust) files with less compression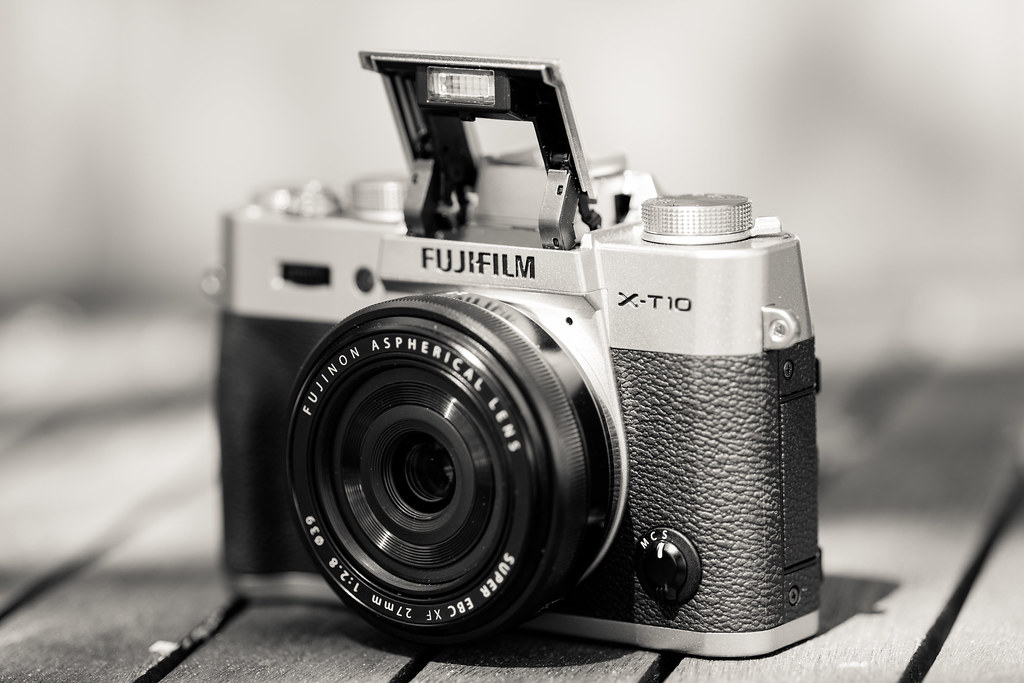 As you might have expected, the X-T10 already incorporates all the improvements that the X-T1 will receive with firmware version 4 this June. Have a look at last week's X-Pert Corner article that details several of these enhancements.
Here's a quick overview of some of the X-T10's improvements that you can't find in your current X-T1 with firmware 3.11:
The "T" setting on the shutter speed dial gives access to all shutter speeds (30s – 1/32000s with electronic shutter)
The exposure compensation dial works in manual mode with Auto-ISO
Autofocus is faster and more accurate (PDAF sensitivity is raised by 2 EV)
New autofocus modes ZONE and WIDE/TRACKING
Face Detection has been improved and includes Eye Detection
Improved AF interface that outlines the PDAF-enabled image area
AF frames light up green to confirm AF lock in AF-C tracking mode
The camera displays wether AF-S or AF-C is set
Improved user interface keeps image corners clear of information overlays (just like in the X30 and X100T)
The white balance selection menu also displays white balance shift settings
The macro function becomes obsolete
While most of these features will soon be added to the X-T1 with firmware 4, it's unlikely that all of them will be included.
Of course, there are also a few things that the X-T10 is not as good at as the X-T1:
Camera body is not officially weather resistant
SD memory slot only supports UHS-1 speed (X-T1 supports UHS-II)
The frame buffer is ridiculously small and will fill after only 7 continuous shots at 8 fps, meaning the fun of high-speed continuous shooting (with or without tracking AF) is over after one (1) brief second
The EVF is smaller with a 0.62x magnification (that said, I prefer the smaller viewfinder of the X-T10, as it gives me a better overview of the scene). Apart from the size difference, it's the same 2.36 megadots real time viewfinder with 0.005s lag.
The tilting LCD display offers marginally less resolution than the X-T1's LCD screen
There's no optional battery grip (however, there will be an Arca Swiss compatible optional hand grip)
No separate SD card door (memory card resides next to the battery)
Only one instead of three custom white balance settings (admittedly, this is a really minor point, I just mention it to illustrate that nothing escapes the X-Pert)
No USB tethering
Build-quality feels good ("Made in Thailand"), but not as brick-solid as the X-T1
Though it's in the same price band, the X-T10 runs circles around the X-E2. So the X-E2 will either have to receive a similar firmware update as the X-T1, or its retail price will plummet, filling the now empty X-M1 spot. Fuji hasn't yet decided about updating the X-E2, but they do not rule out the possibility.
The X-T10 is about 30 grams heavier, but not as wide as the X-E2, so it will better fit in smaller bags and pockets. I particularly like the X-T10 in concert with the underrated XF27mmF2.8 pancake lens. To me, it perfectly matches the simple, understated design that basically turns this camera into the opposite of Nikon's Df (I still suspect the "f" means "Frankenstein").
According to Fuji, the X-T10's design was inspired by the ancient Fujica AX-5 analog SLR. While the X-T10 looks underwhelming in most official product images (this was also my reaction when I saw the first renderings almost a year ago), I think it looks and feels much better in reality.
Since the firmware of the X-T10 wasn't finalized during my tests in Nuremberg and Istanbul, it's premature to go into performance details. However, even with the firmware still being a work in progress, the camera was a joy to use—but I'm really looking forward to that optional grip.
Click here to access a Flickr album with more than 45 full-res sample images that I processed in Lightroom 6. For those of you who are interested in unedited straight-out-of-camera (SOOC) JPEGs, I have added another album with more than 35 full-res images. As usual, those samples include full EXIF data with maker notes.
In case you wonder how I managed to process RAWs from the X-T10 in Lightroom: Since both camera share the same sensor and processor, I simply changed the camera model name in the EXIF data of the RAW files from "X-T10" to "X-T1".
During our week-long Fuji X Secrets workshop in Istanbul, I was able to take many snapshots with the X-T10 and X-T1. Click here to see the album. The combination of the two bodies felt quite comfortable, and I suspect the X-T10 to be a popular second body for X-T1 shooters. I makes perfect sense, as both cameras perform equally well and offer the same image quality.
Regarding our upcoming weekend workshop in Santa Barbara on July 18 and 19, many of you have already emailed me to be put on the mailing list for an early registration head start, and I expect the eight seats to fill pretty quickly once registration opens in about a week from now. The workshop will cost USD 295.00 per delegate, and I'll soon publish a translated list of key topics on my Fuji X Secrets website.
X-T10 Pre-order Options
available June 18 according to BH

X-T10 body: USA: AmazonUS / BHphoto / Adorama EU: AmazonDE / AmazonUK / AmazonFR / WexUK / Cameraworld / PCHstore / AUS: Camerapro
X-T10 + XF 18-55: USA: AmazonUS / BHphoto / Adorama EU: AmazonDE / AmazonUK / AmazonFR / WexUK / Cameraworld / PCHstore / AUS: Camerapro
X-T10 + XC 16-50: USA: AmazonUS / BHphoto / Adorama EU: AmazonDE / AmazonUK / AmazonFR / WexUK / Cameraworld / PCHstore /
Fujifilm MHG-XT10 Hand Grip: BHphoto / Fujifilm BLC-XT10 Leather Case: BHphoto /
XF 90mmF2 WR Pre-order Options
available in July according to BH

XF 90mmF2 WR: USA: AmazonUS / BHphoto / Adorama EU: AmazonDE / AmazonUK / AmazonFR* / WexUK / Cameraworld / PCHstore / AUS: Camerapro
For your convenience, here's a TOC with links to my previous X-PERT CORNER articles:
Rico Pfirstinger studied communications and has been working as journalist, publicist, and photographer since the mid-80s. He has written a number of books on topics as diverse as Adobe PageMaker and sled dogs, and produced a beautiful book of photographs titled Huskies in Action (German version). He has spent time working as the head of a department with the German Burda-Publishing Company and served as chief editor for a winter sports website. After eight years as a freelance film critic and entertainment writer in Los Angeles, Rico now lives in Germany and devotes his time to digital photography and compact camera systems. His new ebook The Fujifilm X-T1: 111 X-Pert Tips is available at Rocky Nook.