Eduardo Soteras Snaps UNICEF Photo of the Year 2022 with Fujifilm APS-C X Gear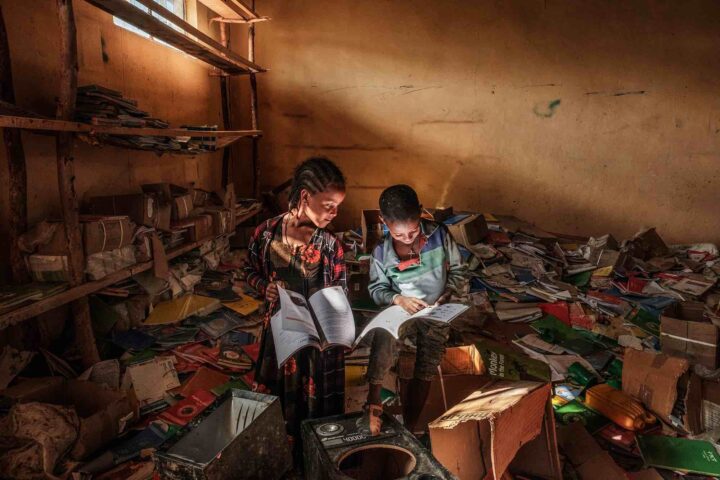 Eduardo Soteras has just been awarded with the UNICEF Photo of the Year 2022 for the image you can see above. The story is this one:
Although destroyed, the library in this elementary school in Ethiopia's Tigray region is where two children have taken refuge in books. This little moment of happiness shows in their smiles. It is a rare moment. Because of the armed conflict with the central government, 5.2 million people in this region in northern Ethiopia are suffering from violence, displacement, malnutrition and a shortage of drinking water.

[…] The desire to discover and learn new things is often so great in children that it makes them forget the threat of a situation.

That is the message of the Unicef ​​photo of the year 2022," said Unicef ​​patron Elke Büdenbender, wife of Federal President Frank-Walter Steinmeier.

"The winning image challenges us to do everything we can to ensure that children can play and learn even under the most adverse circumstances.

Because this is the only way they can maintain their hope and confidence in times of war and other crises.
Given the importance of this image, little it matters that the EXIF data shows it has been taken with the Fujinon XF 16mm f/1.4 R WR.
Here on FujiRumors we just want to congratulate with fellow X shooter Eduardo Soteras for his important recognition and for making the best possible use of our beloved Fujifilm gear: encapsulating meaningful moments and important messages into a single powerful image.
You can read more about this image and Eduardo Soteras at the dedicated UNICEF page here.
Thanks to Daniel Stocker (instagram) for letting me know about it.
And in case you are being brainwashed by some YouTubers that you can only get real Pro work done with Full Frame gear, check out the articles below.
Not enough? Well, then know that photographers using Fujifilm cameras also…