BREAKING: Fujifilm X-T3 Announcement 6th of SEPTEMBER with Some Surprising Not-Yet-Rumored Features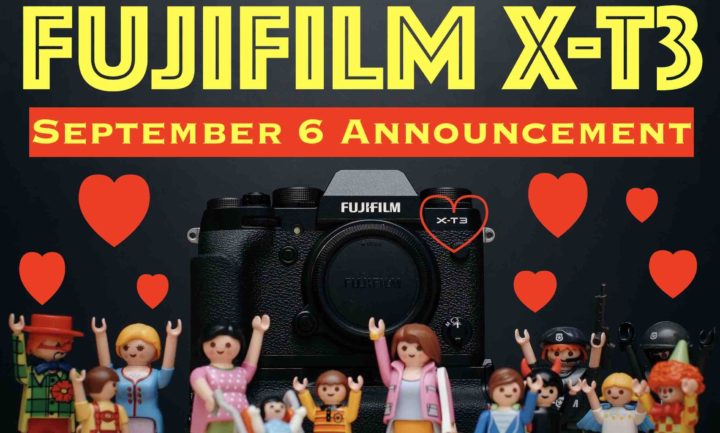 Fujifilm X-T3 – September 6
According to our trusted sources, the Fujifilm X-T3 will be announced September 6 (or September 5, depending on your time zone, for example in San Francisco).
Now you guys might suddenly notice this date popping up all over the web, of course without credits to FujiRumors. If you notice it, feel free to drop a comment and ask them kindly to quote fujirumors.com ;) .
Coming with surprising not-yet-rumored Features
On September 6, FujiRumors will crown months of exclusive breaking Fujifilm X-T3 rumors with an epic live blogging.
So stay tuned on FujiRumors, because…
the best has yet to come…
… including some features that are not yet on FujiRumors, and that I am sure will surprise you very positively ;) )
So…
DO IT AGAIN: Back in May we raised your privacy level on FR to the highest level worldwide, by 100% respecting the very strickt EU privacy rules. Since then, those who subscribed for in browser pop up notification, might not get them anymore. All you have to do to get them again, is to click on the bell icon on the bottom right of your browser
CHANGE YOUR Facebook Settings to Follow FR
Make sure go to our facebook page, click on "Follow" and then "See first" to see all of our facebook posts (if you leave it on "default", then you will see only a very small percentage of the FR posts in your timeline). Done that? Good, then click on "Get Notification" and then "Edit Notification Setting" and select "Standard". Once enabled, you will get an in-app notification (
) for every post we share.
Fujifilm X-T3 rumored specs