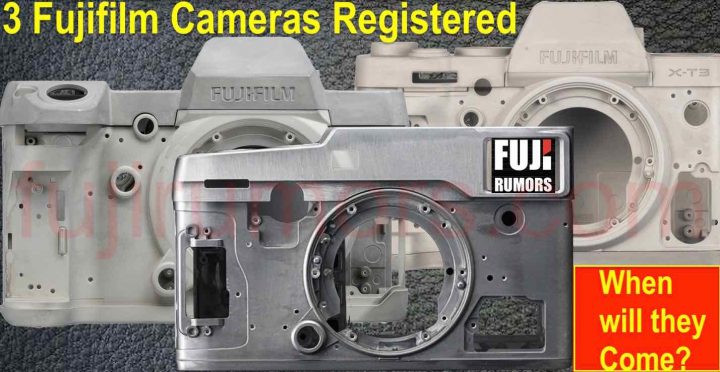 Fujifilm has recently registered three cameras:
The inevitable question that pops up in the comments when this happens, is how long the time span is between registration of a camera and its announcement.
To answer that, I looked back to the past time span between registrations and announcements, and here is what we see:
1 month = 4 cameras (X-T2, X-E3, X-T100, X-T30)
2 months = 3 cameras (X-T20, X100F, XF10)
3 months = 3 cameras (X-T3, GFX50R, GFX100)
6 months = 1 camera (X-H1)
It's clear that we usually get a camera between 1 and 3 months after registration (with exception of X-H1, which needed 6 months).
Clearly this would indicate of 3 cameras coming within November, although the X-H1 shows that a longer wait is not impossible, hence an announcement within February 2020 (6 months).
What could these cameras be?
The contact form on FujiRumors is open for any hint (thanks), and the comments for the wildest speculations :).
check out here – Release Timeline for Fujifilm X-T4, X-H2, X-T40, X-Pro3, X100V, X-E4, X-T200 and X-A6 Based on Fuji's Previous Camera Releases
Follow FujiRumors on Facebook, Flipboard, RSS-feed, Twitter, Youtube and Instagram
Our Owners Groups
Our Facebook Pages