Fujifilm X-H1 with XF 33mm f/1.0 vs Panasonic S1 with Lumix S PRO 50mm f/1.4 Size Comparison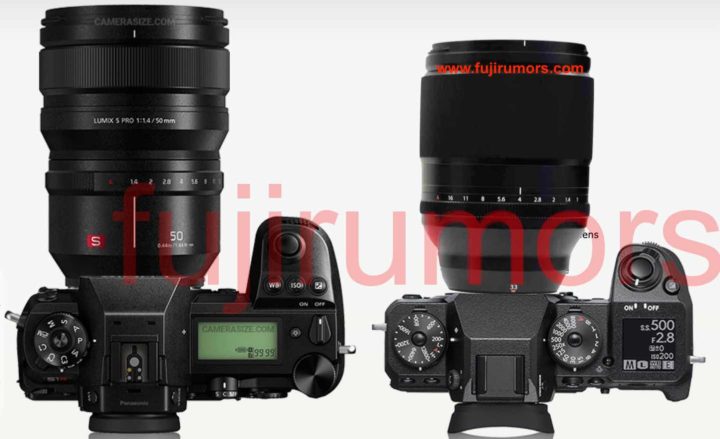 Fujinon XF 33mm f/1.0
Today I was curious to know how the Fujifilm X-H1 with Fujinon XF33mm f/1.0 would compare in terms of size to the brand new full frame Panasonic S1 with Lumix S PRO 50mm f/1.4.
So I grabbed one of the real life pictures of the XF33mm f/1.0 I took at Photokina 2018 and made an approximate comparison.
If the final production XF 33mmF1.0 will have the same size of the mock-up I have seen at Photokina, then the Fujinon XF33mm f/1.0 will be smaller than the Lumix S PRO 50mm f/1.4.
Let's hope it will also be cheaper, since the Panasonic Lumix S PRO 50mm f/1.4 comes with a hefty price tag.
When it comes to camera bodies, the Panasonic S1 is noticeably bigger than the Fujifilm X-T3, X-H1 and also other full frame cameras like the Sony A7III.
My guess is that the bigger body is needed for proper heat dissipation to allow 4K/60 and avoid overheating. This is probably also the reason why no Sony A7 camera currently offers 4K60p.
But despite the larger body, the Panasonic has still to do compromises in terms of 4K/60P compared for example to the Fujifilm X-T3.
Fujifilm X-T3: 4K/60 with only

1.18

x crop without line skipping
Panasonic S1: 4K/60 with 1.5x crop (basically APS-C size)
Panasonic S1R: 4K/60 with line skipping
In our article about the several advantages of APS-C sensors over full frame, we explained how smaller sensors are faster to read out, hence generate less heat and allow for features like the blackout less EVF at 30fps continuous shooting, and, in this case, a better 4K/60 readout.
The Fujifilm X-H1 has no 4K/60, but this is a limitation that comes from the older and slower X Processor Pro.
So, every sensor size has its advantages. It's now up to Fujifilm to fully take advantage of them. And I expect especially the Fujifilm X-H2 to raise new standards and be a clear step ahead of the competition.
Follow FujiRumors on Facebook, Instagram, RSS-feed and Twitter
Our Owners Groups
Our Facebook Pages

via camerasize